Wadi Rum in Jordan: Caught in the moment
No one speaks. Silence… Only the wind, the Bedouin and his camel slowly trotting in front of me. I'm completely caught in the moment while watching the sunset in Wadi Rum in Jordan, the most famous desert of the Hashemite Kingdom.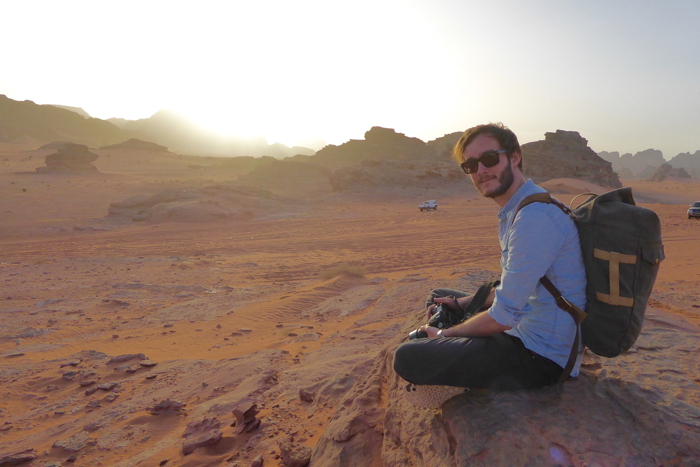 This sunset is probably the most stereotyped one I have ever seen. Sitting high up on a rock I let my eyes linger on the wide plain while an unusual tranquillity sets in. I can literally feel how my breathing slows down, how my movements mirror the speed, my thoughts lane and how I'm fully focused on this very moment.
"If you think Jordan is amazing, wait for the sunset," Ayman had said hours ago in his smug way. All of us were already in the desert mood after a long day in Wadi Rum in Jordan suffering from completely parched throats and weather-beaten skin.
But Ayman was not exaggerating. Ayman is our guide in Jordan, he is in his early 50s and a devoted fan of his country. Well, I'm pretty sure that after seeing this with your own eyes, no one would find it difficult to understand.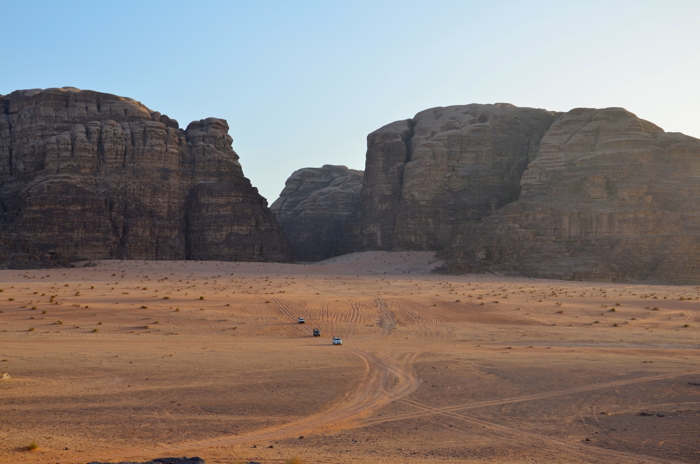 Cars small as ants: Wadi Rum desert is as far as the eye can see
A Wadi Rum tour in the 74,000-hectare nature reserve in Jordan is an incredible desert adventure everyone should do when visiting the country. Mine starts with a bumpy jeep tour, not in front with the driver but on the loading area of the pickup truck. Never mind, I am pretty sure that the bruises are part of the adventure.
The April sun blares down from above and Rajid, the proud jeep owner, races through the valley, as if to show us what an excellent driver he was. And while the strong vibrations in the back make me doubt it, huge black granite mountains and bizarre sandstone formations pass by like a slide show. The whole are is very reminiscent of a lunar landscape or at least my idea of a lunar landscape.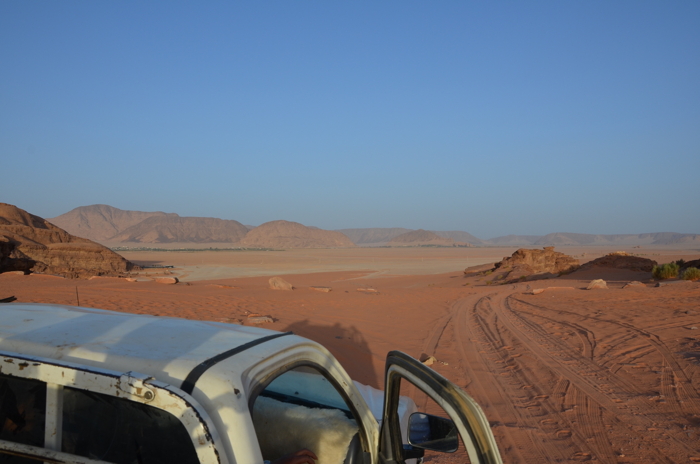 Racing through the surreal Wadi Rum in Jordan on a pick-up

Wadi Rum Jordan: Barren rock formations on the horizon

Wadi Rum Jordan: rust-red sand dunes crossed by wind drifts
The driver then stops abruptly at the foot of a rust-red sand dune where we torture ourselves climbing to the top just for the one-and-only photo. But it turns out to be quite worth it.
While my eyes gaze over the cracked silhouettes of the mountains, surreal like an old movie set, the tepid south wind keeps on blowing finest sand into my hair. But I don't care. I guess the steadfastness of hairstyles probably plays a rather minor role in the desert.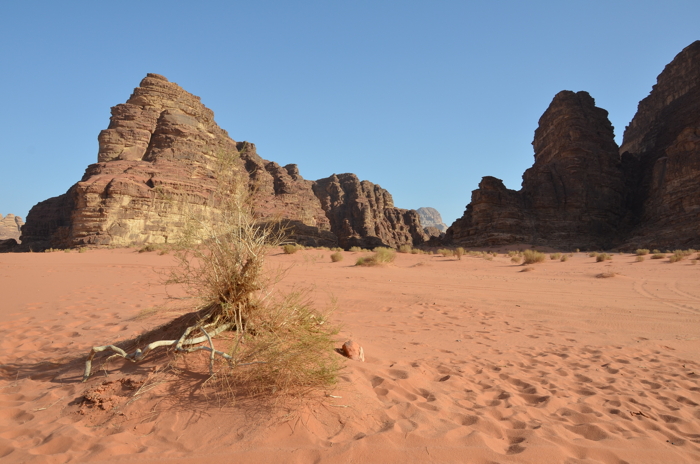 Bizarre rock formations in red sand: Wadi Rum Jordan is one of the most impressive deserts
Less than half an hour later I'm sitting on top of said rock where Ayman has guided us for the sunset. The sun is getting ready for its last major appearance. And when the sun sets in Wadi Rum, the curtain rises.
With every millimetre that it pushes its curves behind the barren mountain structures on the horizon and with every passing second it changes colour from yellow to orange, from red and redder. If the sunset in Wadi Rum was a movie, you can confidently call it a tearjerker.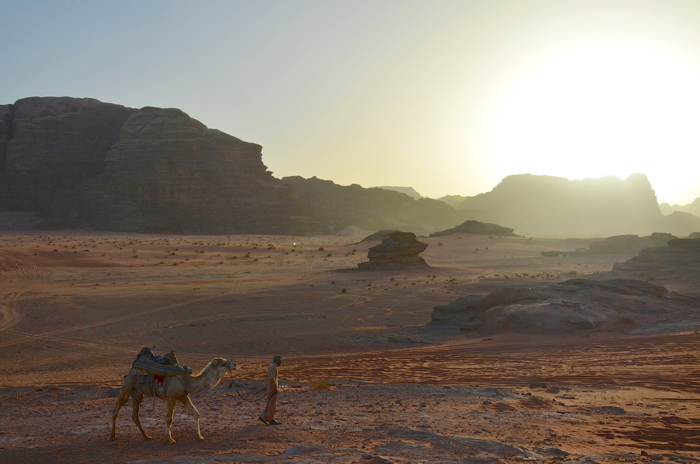 Wadi Rum Jordan: a sunset as if from a picture-book
While sitting there, one name comes back to my mind that Ayman talked a lot about during the day: Thomas Edward Lawrence, better known as Lawrence of Arabia. It was right here in Wadi Rum in Jordan, where in the First World War he should incite the Arabs to revolt against the Turks. The British lieutenant who spoke Arabic fluently led the revolt of the indigenous Bedouin against the Hedjaz Railway and the Turkish troops; not in his British uniform, but with with a headscarf, in Arab garb and armed with an Arabian scimitar. Must have been a cool guy this Lawrence, don't you think?
In his diary, he described his new home, the mountains and orange sands of Wadi Rum, as "vast, echoing and God-like". Unfortunately I do not know what time of day he once made this note, but it may well have been watching the sunset.
Planning a trip to Wadi Rum Jordan? Check out my favorite travel guides:
Once again, I can highly recommend the Lonely Planet Jordan. Especially for individual travelers it offers some really useful advice for safari operators, accommodation, bus routes etc. The Rough Guide to Jordan is a good alternative.
More Articles on Jordan Travel:
• The Jordan Experience – Fairyland if the Arab World
Anekdotique was a guest of the Jordan Tourism Board. All opinions, exaggerations and bad jokes are his own.