My addiction to Hong Kong: A confession
My name is Clemens and I'm addicted. Not to alcohol or something that makes me ill or eventually end up in the gutter. I'm addicted to Hong Kong.
It's no secret that I love to travel and that nothing stirs the butterflies in my stomach more than an upcoming trip to an unknown destination. I'm looking forward to places that I have never been to like to a new dish that I have never tried.
And yet there is a place that makes me excited every single time I go there. Because I will never tire of this intoxicating city. I'm addicted to Hong Kong.
I'm addicted to the urban canyons that are so crowded with people that I feel like in a bunch of rampaging fire ants.
I'm addicted to the huge neon signs built of Cantonese characters, especially when the old light bulbs have a loose contact which results in an unrhythmical blinking and turns the whole street in a disco.
I'm addicted to Victoria Harbour and the stunning view from the shore of the Avenue of Stars in Kowloon across to the other side to Hong Kong Island.
Where on a clear day one has to be aware of not forgetting to breathe while your eyes lose themselves in the seemingly endless landscape of concrete and glass. Here probably everyone is a little child again.
I don't get enough of the wild hustle and bustle on the street markets that confuse all my senses at once. Where the fish somehow smells even more fishy as elsewhere, where the market traders seem to scream louder than in other places and where in the evening the light of the old red lanterns looks even more fascinating than last time.
I'm addicted to the Dai Pai Dong, these traditional food stalls with the charm of plastic chairs on man hole covers that apply among connoisseurs as the real gourmet temple in town. Because it is here on the street where the a simple middle-aged man cooks in a wok for workers and businessmen alike. Delicious!
Where there is always a Dimsum between tiger prawns, Peking duck and crawl salad. Where everything is cooked with either chilli, ginger, coriander or fish sauce so that it seems to be hard to cook a similar dish quickly at home on your own.
I can not get enough of the Eau de Hong Kong, the thousands of odors that pass through the urban canyons like wild vagabonds and thereby mix with each other again to new abstruse odors.
I'm addicted to the Chungking Mansions, that weird conglomeration of payphone shops and dwellings, which has gained cult status in Hong Kong not least thanks to Wong Kar-Wai's wonderfully trashy Hong Kong romance Chungking Express from the wild 90s.
Where you wonder for what the old, multi storey building actually was built for, Persian rugs, Chinese smartphone copies or for the finest Afghan opium.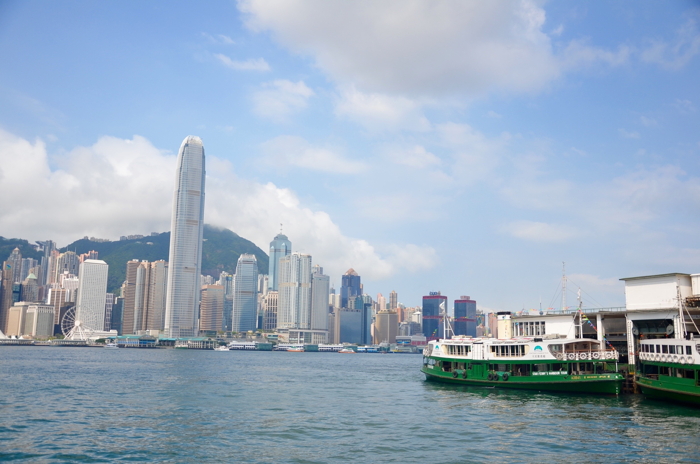 I'm addicted to the morbid industrial charm of the Star Ferry, that day after day carries Hong Kong people from Kowloon on the mainland all the way to Hong Kong Island and back since 1898. The one-and-only ferry, which for many people is still a better option to the often overcrowded MTR, the huge network of metro lines in the Chinese special administrative region.
I even find pleasure in the penetrating smell of engine oil, which while driving mixes with the salty and fishy wind and that you can feel in your hair even hours later.
And to be honest, I can get excited for every single meter that the Star Ferry makes its way through the waves and for every second, in which the surreal glass and concrete façades in front of me are getting bigger and bigger.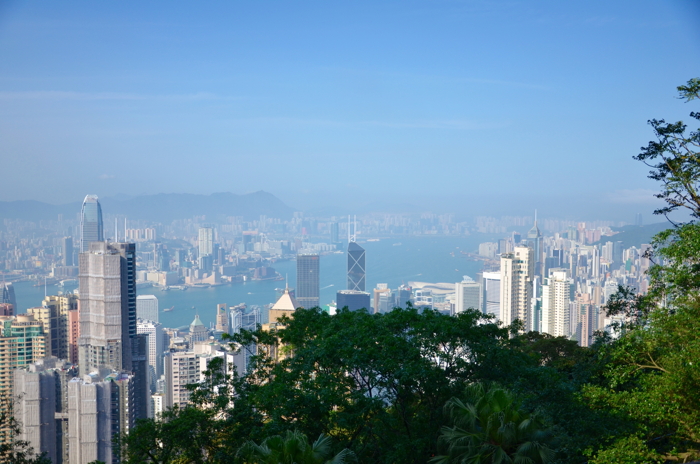 Seriously, who can get enough of the view from the highest point on the island, from Victoria Peak down to the strait across to Kowloon and the New Territories and to the largest amount of skyscrapers in the world.
I could spend hours there just looking down to where the skyscrapers of the rich and super rich are stacked like dominoes and thereby outdo one another with an even better view of the city.
And then there is still the highlight of each day: the blue hour, the special coloring of the sky between sunset and darkness. I am addicted to the moment when the lights of the city are turned on one after another, when the blue sky begins to sparkle and the skyscraper icons begin to shine in the most cheerful colors like the rides at the carnival.
I could go on forever taking the Central Escalator. It is the longest escalator in the World, an elaborate system of moving walkways that connects Central with the Mid-Levels and thereby transports thousands of workers from their homes to the office and back every day. For hours I could just spend my time standing on the Escalator and watch the world around me.
I even like the chaos of Hong Kong. While others might feel unwell in big Asian Capitals like Hong Kong I see the mass as a challenge, I even find find inner peace in the mess.
What could be better than standing high on a bridge in Causeway Bay looking down to the huge, yellow crosswalk and counting down the seconds till the traffic lights switch and hundreds of passers-by start to move all at once?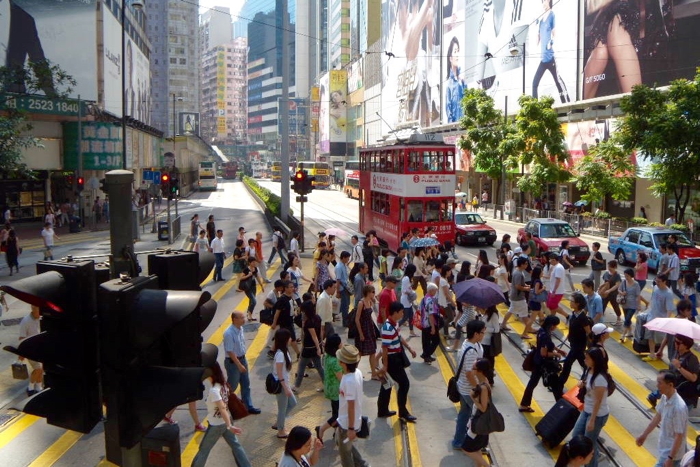 How gladly do I escape from the midday heat in one of the Buddhist temples such as the Man Mo Temple in Central, where suddenly everyone is the same. Where young and old, rich and poor practice their religion side by side and shortly afterwards dive back into the metropolis.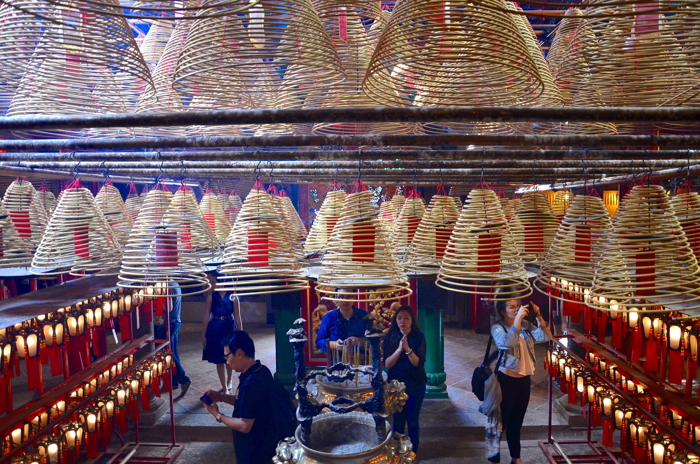 I am addicted to the green oasis of Hong Kong, such as the Hollywood Road Park – places of rest, into which one emerges as under a bell of bulletproof glass far away from the bustle of the big city. And every second or third day, I could escape from the haze of Hong Kong Central to Aberdeen, Stanley or Lantau Island, where you end up in just 30 minutes in a completely different world.
To be honest, I'm also addicted to all the wild nights in the bar districts of Wanchai and Lang Kwai Fong, where one celebrates life, as there would be no tomorrow, and if so with a huge hangover.
Nevertheless, the next day I will be once again happy to hear the metallic clatter and rattling of the double-decker trams that for over a hundred years make their way through Hong Kong Island and still resist the modern world. Pure steel melancholy.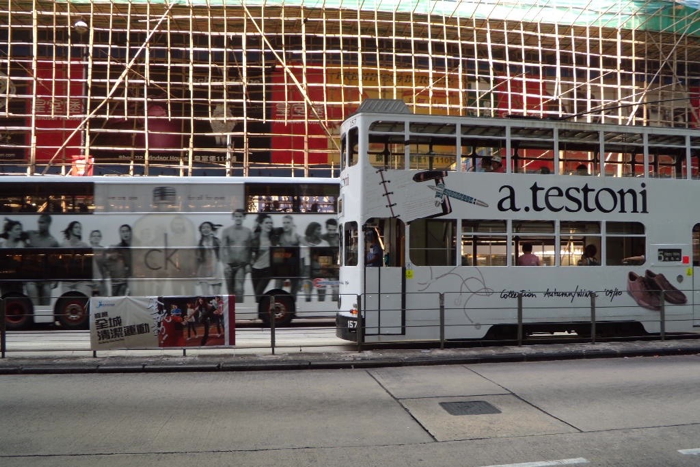 I'm addicted to a city that is different every single day, that presents itself in a new look at every visit just like an artist that mixes the old with the new.
Yes, Hong Kong, I am addicted to you. An addiction without any regret. On the contrary, I will continue to scream it out to the world and I will continue to feed my addiction as long and as often as I can. I don't need no rehab. The rehab is you.
Planning a trip? Check out my favorite Hong Kong travel guides:
I have used the Lonely Planet Hong Kong for 6 trips to HK in over 13 years and I have to say: it's still the best! Especially for backpackers it has some really useful advice like up-to-date-hotels, bus routes, cheap eats and so on. A good alternative is Fodor's Hong Kong.
Where to stay in Hong Kong:
The city offers great options as well. Where to stay in Hong Kong? Here is our guide from Kowloon to Hong Kong Island, from budget to bling. Here is our guide from Kowloon to Hong Kong Island, from budget to bling: Where to stay in Hong Kong – Budget to Boutique
Fancy a helicopter ride in Hong Kong?
A fantastic way to see Hong Kong is by helicopter. Join an amazing ride on one of the tours by Heliservices and discover the area from above the top of the skyscrapers. We took off from the Peninsula Hotel in Tsim Sha Tsui then flew north along Victoria Harbour. A great experience that I can totally recommend to anyone. Just have a look at the pics!!
More Articles on Hong Kong Travel:
• Unordinary things to do in Hong Kong
• Where to stay in Hong Kong – Budget to Boutique
• Tai O Village in Hong Kong: Fallen out of time
• Hong Kong from above: a tram ride through the city of WOW's
Anekdotique was a guest of the Hong Kong Tourism Board. Thank you! All opinions, exaggerations and bad jokes are my own.