Hong Kong from up above – a tram ride through the city of WOW's
Whenever possible I make a stopover in one my most favorite cites: Hong Kong. A place that I love for so many things: its beautifully located harbor, picturesque Sheung Wan, its neon lights and dimsum places, for the hidden gems of Stanley and Aberdeen, and oh my, how could I not mention the most stunning skyline in the world? But there is one thing that I love the most since my very first visit back in 2003: the old trams.
The best thing to do in Hong Kong is to jump on one of the old tramways that make their way through Hong Kong Island since 110 years. Being one of the earliest forms of public transport in this mega city, the world's largest fleet of double-deck tramcars is pure melancholy.
How they rattle their way between Shau Kei Wan and Kennedy Town and through never-ending Causeway Bay, the arterial road of HK Island, since centuries. How the driver rings the old bell every time the tram arrives at a termini and how you jump on them and climb up the stairs to the upper deck with the greatest wish of all: to find a free seat near the window front.
The best advice: Just sit there and forget the time, while the tropical humid air blows into your hair through the tiny little windows and the hustle and bustle of Hong Kong passes by like a stage play: the huge malls and the small markets, the big intersections and all the little backstreets.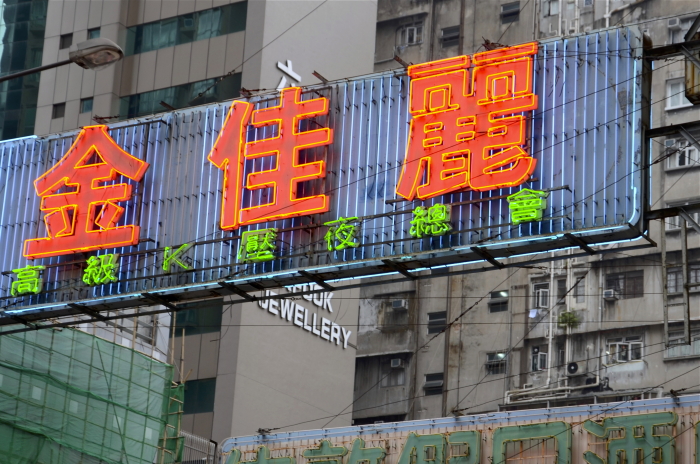 You pass by Tai Chi classes in beautifully green Victoria Park, you drive past the extensive Happy Valley Racecourse with the tall floodlights and hundreds of old houses that are completely covered by a scaffold out of bamboo and industrious workers doing renovation work.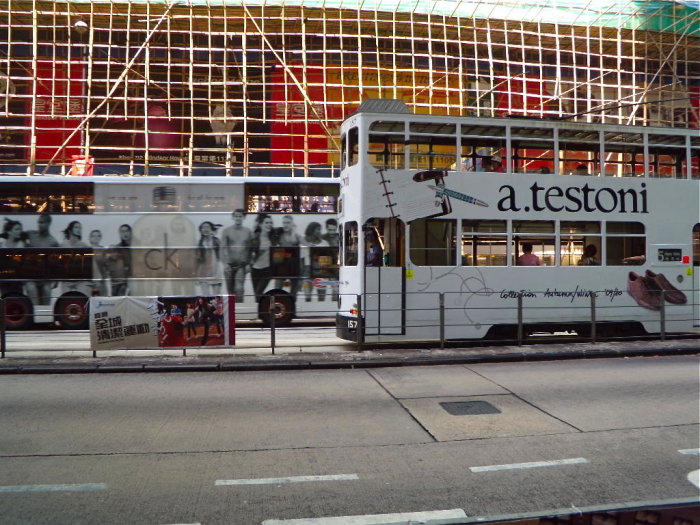 You make jokes with the little Chinese girl in the tram in front of you, that runs ahead and then get caught up again at the next station by the one you are sitting in.
You spot typical Hong Kong mansions, old buildings that are paved with old air conditioning systems over and over, hanging on every single meter of the outer walls. And where old plaster flakes off the ceiling. Places that tell stories about colonial times and previous owners, about typhoons and storm tides.
Sometimes you can even look through the windows into the flats and see normal Cantonese folks living a normal Cantonese life. And then a few meters later, you get deeply impressed by the silverly reflective skyscrapers of the Centrals bank district.
Your eyes follow workers entering the tram in North Point, hoping to get to work on time and old couples sitting next to each other not talking a single world.
You meet elegant Hong Kong ladies on their way to SOGO and other huge shopping malls and groups of students in their slightly British uniforms, chatting with each other so loudly, that only the wind can take away their broad laughter.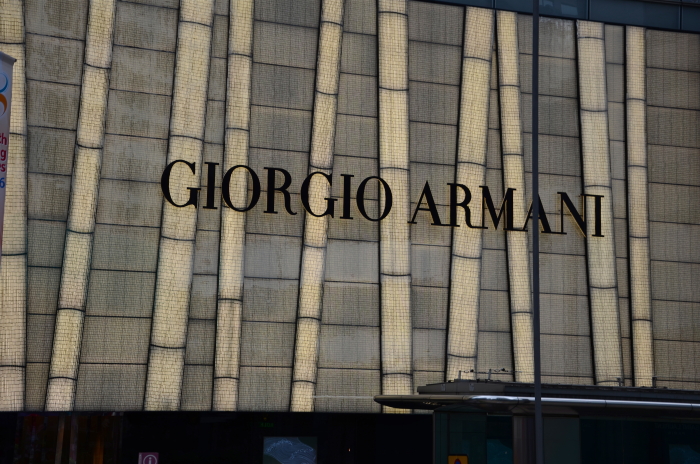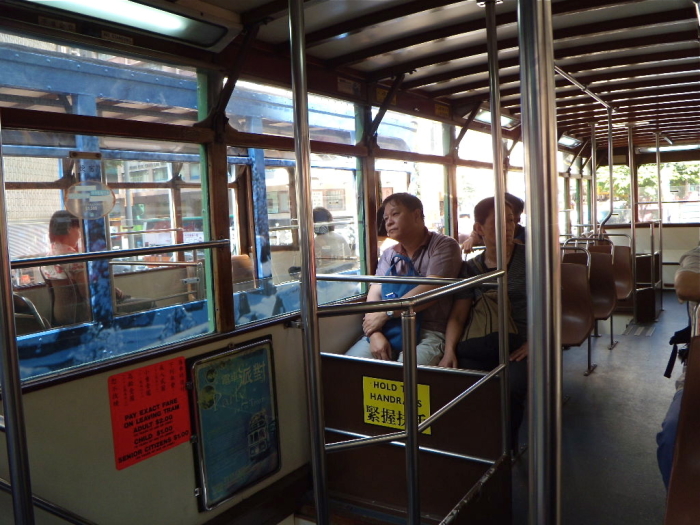 You pass tiny side-streets with even smaller market stalls that are Illuminated by these typical red chinese lamps, where housewives do their day to day shopping, market criers do their business and a breath of wind waftes across the smell of coriander, tropical fruits, and fresh seafood.
There are no doubts, that you could spend hours sitting on the upper deck, staring at the sheer diversity of beauty. And then, all of sudden, you get out of the tram and plunge into this melting pot of Wow's that this city has to offer and get lost in this magically unrealistic metropolis that Hong Kong ever was and hopefully will ever be.
HARD FACTS ABOUT HONG KONG TRAMWAYS:

Operating since: 1904
Number of lines: 6
Numer of tram stops: 120
Operating Hours: 5:30 am to 12:30 am
Fare for adults: HK$2.30; children: HK$1.20; senior citizens 65 and above: HK$1.10
The fare charged is uniform regardless of the distance travelled. Passengers pay upon alighting by depositing the exact fare in coins into the farebox. Or by using the Octopus card, a reusable value smart card for electronic payments.
There are six major overlapping routes:
Shau Kei Wan ↔ Western Market
Shau Kei Wan ↔ Happy Valley
Shau Kei Wan ↔ Kennedy Town
North Point ↔ Whitty Street
Happy Valley ↔ Kennedy Town
Causeway Bay ↔ Whitty Street
Western Market ↔ Kennedy Town
Planning a trip? Check out my favorite Hong Kong travel guides:
I have used the Lonely Planet Hong Kong for 6 trips to HK in over 13 years and I have to say: it's still the best! Especially for backpackers it has some really useful advice like up-to-date-hotels, bus routes, cheap eats and so on. A good alternative is Fodor's Hong Kong.
Where to stay in Hong Kong:
The city offers great options as well. Where to stay in Hong Kong? Here is our guide from Kowloon to Hong Kong Island, from budget to bling. Here is our guide from Kowloon to Hong Kong Island, from budget to bling: Where to stay in Hong Kong – Budget to Boutique
More Articles on Hong Kong Travel:
• My addiction to Hong Kong: A confession
• Where to stay in Hong Kong – Budget to Boutique
• Unordinary things to do in Hong Kong