Happy Holi: The Festival of Colors is now even celebrated in India
The Holi Festival is currently on everyone's lips. And all the colours even more. Whether in Cape Town, Berlin or Sydney – all over the world young party-goers come together to dance to thumping electro beats while throwing coloured powder at each other. Imagine this party series has now even made it to India.

The Indians celebrate the event slightly different, without electricity at all but with simple drums. Not in large event locations, but simply in the middle of the city – virtually anywhere. They also have no countdown leading up to the moment at which all simultaneously throw their colour-powder in the air to then take the desired snapshot with a smart phone and be the first one posting it on Facebook or Instagram. In India, that's not the point.
And what is totally absurd: not only the hip youth, but even children and old people are taking part. On the Indian subcontinent, nobody ever came up with the idea to charge admission for it or to advertise the event. Funny, these Indians…
On my last trip to India, I checked out the Indian version of the Holi Festival of Colours. Namely, in the southern Indian state of Karnataka, more specifically in a small desert town called Hampi.
"Happy Holi!" It began with the joyous screams of crowds of children and loud drums that came ever closer even if you did not know exactly from which direction. The whole village had dressed up in the whitest clothes. After the Indian Spring Festival, which is also very aptly named festival of colors, you can just throw your clothing away with certainty. Or use the tie-dyed outfit to impress the visitors of a youth camp or maybe aging hippies on the beaches of Goa.
The reason is that at the celebrations, that last at least two days and in some areas even up to ten, what you mainly do is to throw coloured dry powder or coloured water at each other. So we had bought this powder, called Gulal, that is usually coloured with vegetable dyes, the day before at a tiny stall in the market. That day, the saleswoman told us with reckless abandon the meaning of every single colour. Yes, you can say with complete justification, that one could already feel a certain tension in the days before Holi. You could even secretly realize that a great event was imminent and that the whole city was in joyful preparation for it.
The drums came closer and closer: a deafening noise of rhythmic beats, screaming, cheering and laughter. Now there was no turning back. And since I did not want to be completely unprepared, I mixed a little colour with water in a 0.5 litre plastic bottle and stabbed a small hole in the lid. (Like an Indian version of a Super Soaker.) After all, you need some kind of weapon, right? Our preparation even reminded a bit of youth gangs who are going to be in a fight with each other.
And then it started: out of the hostel and into the hustle and bustle. Deafening fray everywhere. As soon as I was on the road, someone already clapped a hand on my cheek and a cloud of green colour powder splashed right before my eyes. Okay, so that's how we roll?
The wild excesses may perhaps seem a bit rough. But as a first time visitor you quite quickly realize, that nobody wants to hurt you, but exactly the opposite: that all just want to have fun. One for all and all for one. For in those few days not only old disputes are buried, especially all barriers are removed by caste, gender, age and social status. During Holi all are equal. Forget and forgive. And you can feel that quickly.
You can feel that, when Indians and tourists play with brightly coloured powder on each other, going from place to place while laughing and chitchating so loudly, as they would have known each other for years. You can feel it, when all language barriers are lifted, when there is sudden friendship created by mutual smearing with a thick brew of paint and water. Who needs words when there is colour? And a smile, too.
For the Indian people Holi is sacred – not only because of the language close to the English word "holy". You realize how special the celebrations are, when Indians of all ages and people from all over the world run around screaming "Happy Holi, happy Holi!" with so much joy in their voices, as if it was a long-awaited act of reunion. You realize it, how special the event is, when a little Indian girl holds out her thin arms and asks you with a charming smile to maybe hand her out a tiny bit more colour.
Or when a nearly two-foot-tall tourist gives a little Indian boy a piggyback ride, so he does not sink in the ground. And the moment this little boy sits up there like on the shoulder of a giant so proud and with a splendid smile, as if he would like to say: Look at me, I'm the Kind of Karnataka! In such moments, the celebrations have a feel of something amazingly beautiful, almost magical.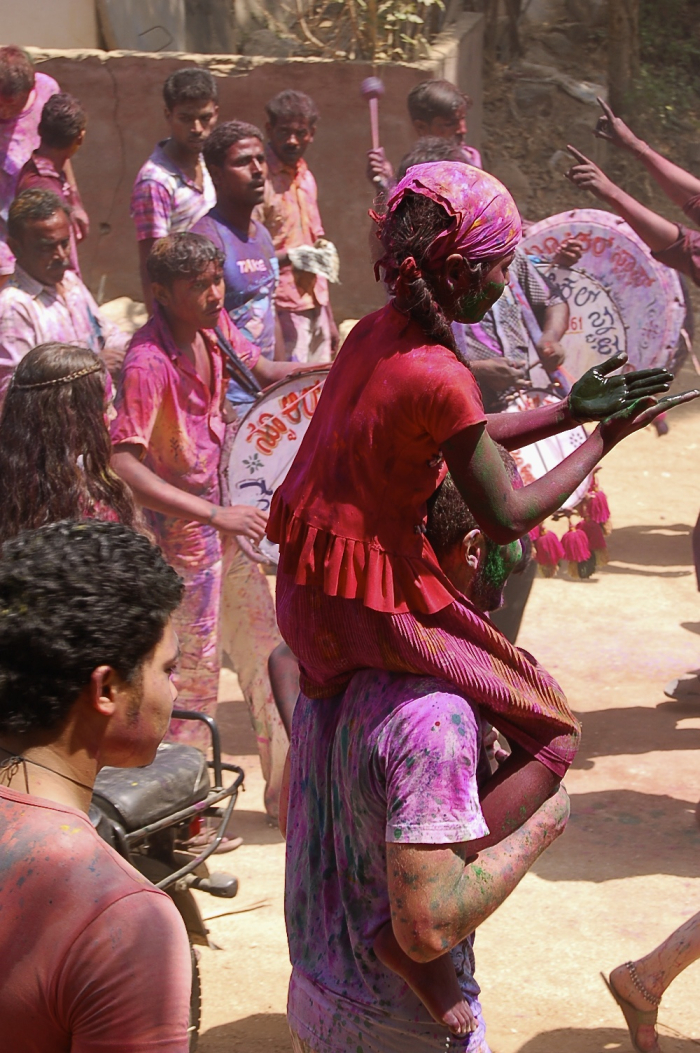 It's no surprise that the traditional Holi is so unlike the electric bash in Rio, Berlin or the end of the world. In this case, these events really do have a right to exist, especially for those who have never met the Indian counterpart or maybe do not even want to.
I just wish that in ten years people in the Western world will still remember that there was once a time when the word Holi was not associated with card presale, DJ Tiësto and Instagram, but with an old tradition that since centuries helps to overturn all boundaries even in a country that is so diverse and so huge. Along these lines: Happy Holi!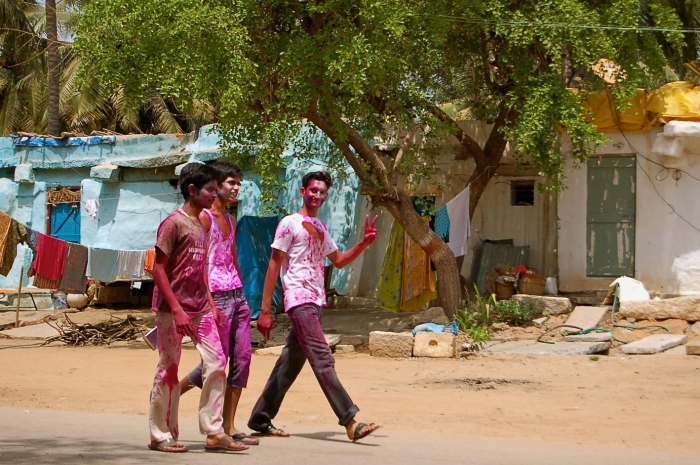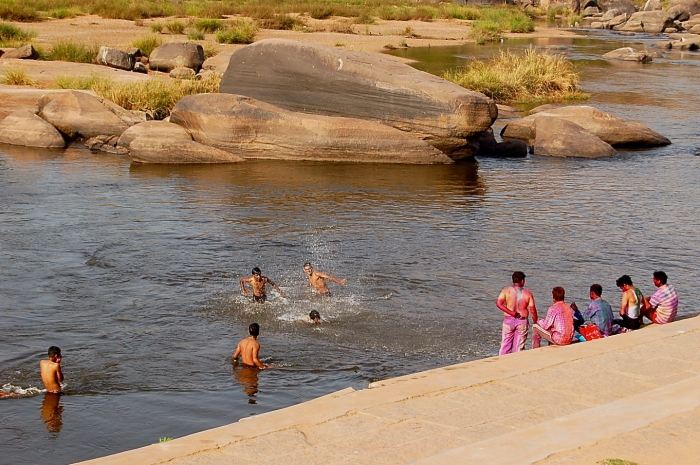 HARD FACTS
Location: mainly in Northern India, but also in other parts of the country
Time: the full moon day of the month of Phalguna (February/March)
Duration: at least two, and in some areas even up to ten days
Admission: 0.00 rupees
Color powder: 10 cents / paint bomb
Have you been to India? What anekdotiques and tips do have from there? Leave a comment!
Enjoyed this article? Follow me on Facebook and get notified about new posts!