The ultimate Whitsunday Islands cruise: Party madness in a natural reserve of Australia
'Heeeey, how ya doooiiiing?' When cheerful Australian girls talk to strangers, they always sound kind of nasally and combine it with an overly friendly smile. I am still not quite clear whether this strange characteristic can be trained or whether this is the result of a sunstroke. Anyway, this travel agency staff was excessively friendly.
We got directly to the point and told her, that we wanted to do a cruise to the Whitsunday Islands. Yes, three days would be fine. Party, summer and nice people? Sure, why not. Although, not too much. But it would be nice to have a couple of cold beers on deck. If we had agreed to the party thing, she would have come up with the Atlantic Clipper, a schooner Yacht that has the reputation of being a real party boat.
But of course, the young woman had a suitable offer for us: a cruise with the New Horizon. And of course, this would be exactly the right thing, with alcohol but without drinking games. At least we thought so, until the cruise finally started.
Day I:
The booking office told us to BYO, which of course means alcohol. The New Horizon already has everything else on board: from food and soda water to linen and snorkel equipment. So right before the ship departed, we went to a Bottle Mart and bought a pack of 40 cans of beer, as glass bottles are strictly prohibited on board.
At two in the afternoon we met the other passengers at the yacht mooring. It was funny, how they stood there nicely separated into groups of friends, so that it was pretty easy to figure out who was travelling together: some English girls, some Germans folks, a handful of couples and many more. The 97-foot sailing vessel takes 32 passengers and four crewmembers and is a real schooner Yacht. But due to the fact, that a sailing ship cannot sail without wind, it was no wonder that it smelled of old oil.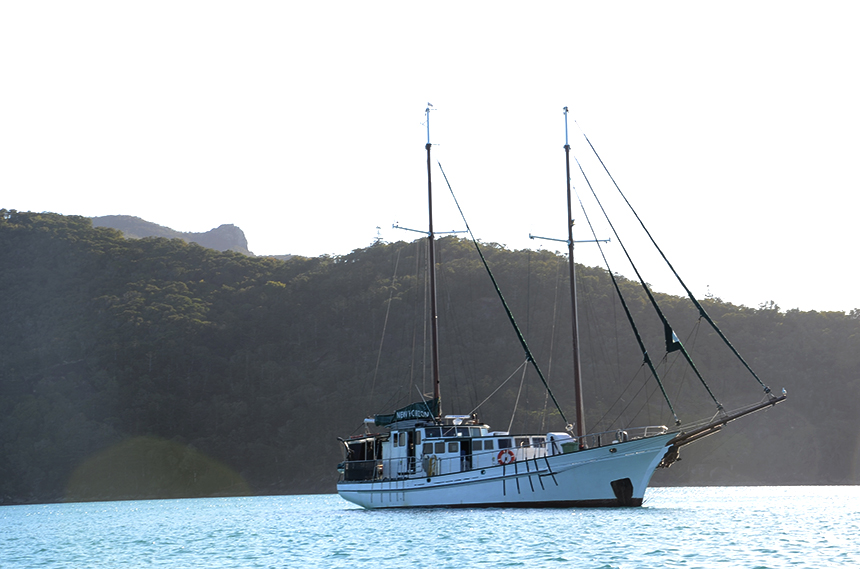 On board, we first put the alcohol in huge freezer boxes. Unfortunately, hardly anyone knew, that we were supposed to bring our own crushed ice. So as long as our beer was still cold, we rather drank it immediately.
Besides XXXX Gold (pronounced "Four X"), Victoria Bitter (pronounced "VB" and in any case not "Victoria Bitter") and Oettinger (a shitty and cheap German beer some Californians took with them), some also brought Goon, a very sweet Australian wine. Rumor has it that it might contain remains of fish and eggs. So much for that.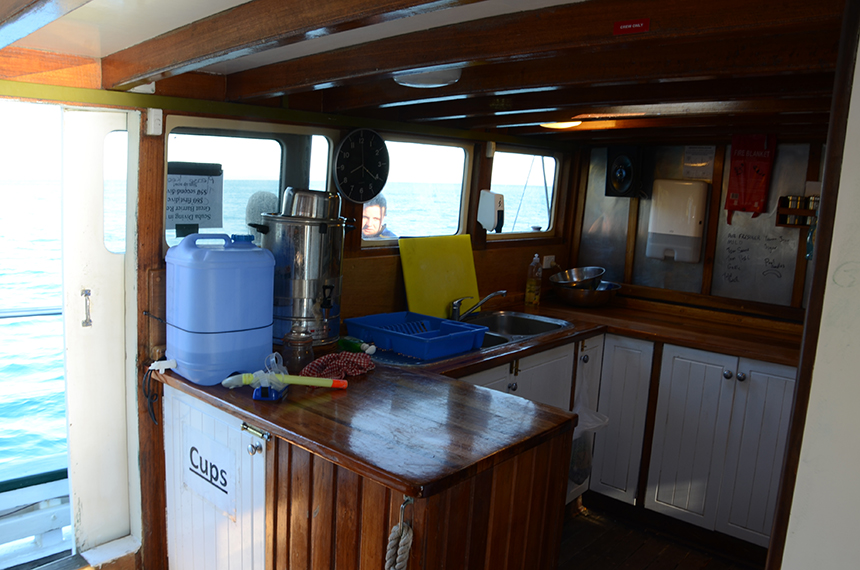 Next, there was a brief presentation of the crew and a briefing on the sanitary facilities. The water is rationed on the New Horizon, which is why everyone is supposed to have only a one-minute shower a day. No problem – in fact hardly anyone really had plans to take a shower in the coming days anyway.
And then the journey began. Under brilliant blue skies and with totally calm water we made our way through the Whitsunday passage into the sunset. We enjoyed our first beer, came slowly into the conversation and listened to the UK top 10 in a loop. And then something happened that surprised all of us. On the bow, there stood a group of totally drunken Brits who hit their foreheads with a bear can while bawling English pub songs. Did I miss something? Suddenly, a can exploded and the beer slowly flowed down to our bare feet.
And it even got better. The loser of the game and a solitary friend took off all their clothes and then poured another ice-cold beer over their naked bodies, what looked a bit like a heroic picture postcard from a shabby stand in East London. Well, maybe that was their alternative way of having a shower when water is scarce.
Well, everybody knows that most Brits like to drink beer and are accustomed to get drunk quickly. They go to the pub right after work and eventually have to be done with drinking until curfew. Accordingly, those guys were also the first who went to sleep that night, although some didn't go to bed all alone. But that's another story. And I really didn't want to tell the one of the mobile video that went from hand to hand…
Those of us, who were still awake and halfway sober at midnight, were rewarded with a beautiful starry sky. Due to the fact, that there is no air pollution at all out there at the Whitsundays, we saw a firmament that was so stinging clear than almost anywhere else in the world. Besides, there was something else to admire: a dolphin, that craved attention, kept our company for the rest of the night, until we finally we went to bed in a large dorm below deck with feet that were all sticky from the beer.
Day II:
The morning started at 6.30 with loud Manchester United fan chants by a crew member ("Stand up for Manchester United!!"). Most of us missed the breakfast, skipped the morning toilet and took stinger suits in order to go snorkeling in a nearby bay. Those who wished could also book a beginner dive.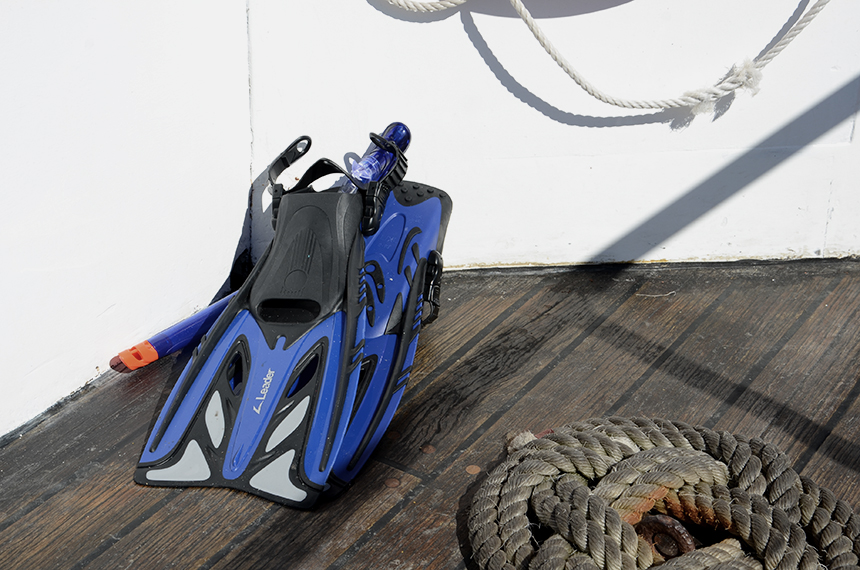 Noon brought us the real highlight of the tour: Whitehaven Beach with snow-white and powder soft sand, which we reached after a short bush walk and the breathtaking view from a lookout over the bay. (I already wrote about what makes this beach so special right here)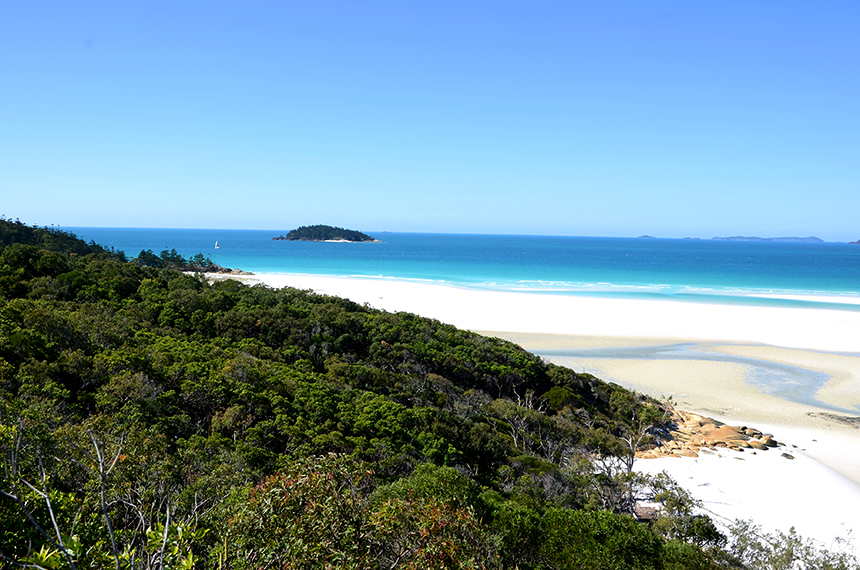 In the late afternoon we went back to the New Horizon, where we finally ended the day with some party games. Wait? Party games? Yes, you have read correctly. The crew actually forced us to do some contests against each other including lap dance and exclusive many clothes. (And no, I don't have photos…)
Day III:
After another short night, the day once more began with loud ManU singings, which surely by now accompanied all of us for the rest of the trip. In the morning, there was the chance to could go snorkeling one last time, to jump off the ship's diving board or to make one's way through the bay in which we were at anchor on a paddle board. And, believe it or not, some folks even already enjoyed their first beer of the day. Well, I guess there's nothing better than a lukewarm Oettinger beer in the morning.
This trip gradually came to an end. And even if most of the passengers might have enjoyed the time we had on the sailing vessel, we all were visibly relieved when the New Horizon drove back into the marina of Airlie Beach under full sail. What remained was many unexpected memories, salt in our hair and a subtle swaying, which should stay with us for several days.
As you can see, I have rather captured the beautiful moments with my camera. Everything else mostly came so unexpected, that I was too surprised to take my mobile.
Read more about the Whitsunday Islands here.

HARD FACTS
Where: Whitsunday Islands / State: Queensland / Continent: Australia
Best time to travel: Year-round warm weather. Winter is the best time – pleasant temperatures during the day, very little rainfall.
How to get there: From Airlie Beach by sailing ship about 4 hours
Booking: True Blue Sailing is just one tour operator. You can book a trip in about every travel agency in Australia
Cost: About 300 Euros for 3 days including meals and snorkel equipment
Have you been to the Whitsunday Islands? What anekdotiques and tips do have from there? Leave a comment!
Enjoyed this article? Follow me on Facebook and get notified about new posts!