Azerbaijan travel: Torn between tradition and modernity
Azerbaijan is no ordinary holiday destination. Those who nevertheless decide for a tour, can expect a country that seems to be torn between the East and the West, between tradition and modernity. Azerbaijan travel experiences range from Baku, the vibrant capital city, to the most remote mountain villages in the middle of nowhere in the Caucasus. Welcome to a country that seems to have not yet really found its future between Europe and Asia.
Arrival in Baku, 6:40pm. The sun glows deeply red-hot on the horizon as it gets ready to set the stage for the night. The youth sits along palm-lined boulevards near to the UNESCO-protected Old Town, smokes water pipes and sips their Tanqueray gin tonic. Huge, flashing billboards hang on bluish-silver-coated glass facades while one can hear American hip-hop blaring from German luxury cars passing by. The famous Flame Towers flicker promisingly in LED above the city.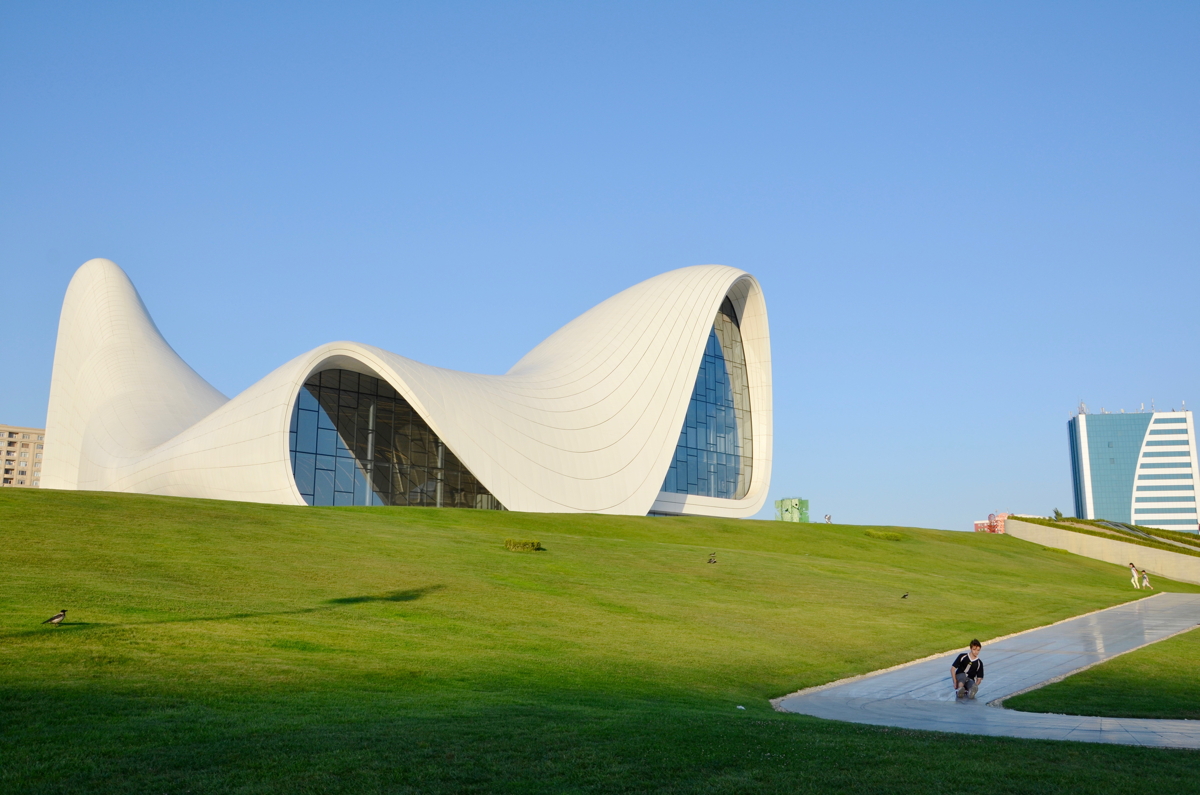 Azerbaijan travel: A visit to the futuristic Heydar Aliyev Center
The first impression of Baku at night already gives visitors a glimpse of the flair the city has in daylight. One immediately recognizes that the place has probably already arrived in the present a long time ago. The 2.1 million metropolis on the coast of the Caspian Sea is full of modern age status symbols and architecturally daring new buildings such as the Heydar Aliyev Center, ingeniously designed by the recently deceased Iraqi-British star architect Zaha Hadid.
There is not doubt that the Land of Fire, a name that relates to the burning of natural gas resources in the region, has developed rapidly. Azerbaijan has never been more similar to Europe than nowadays. This is partly due to the capital, which has held a number of major events and thereby put the area in the spotlight, such as the 2015 European Games and the Eurovision Song Contest in 2012. This night that made Swedish pop singer Loreen a superstar and Baku one of the most modern metropolises in Western Asia.

Azerbaijan travel: Between tradition and modernity
On the other hand, the city is proud of an emerging elite with an urge to develop innovative start-ups, design boutiques and lively co-working spaces. These business ideas are still somewhat different from the traditional standards, but however tolerated by the authoritarian regime and even supported by it. Journalists, however, have not much to laugh about under President Ilham Aliyev, son of the great Heydar Aliyev. Critical thought is still suppressed. In Azerbaijan, even the most modern and democratic lifestyle seems to have its limits.

Azerbaijan travel: Views over the bay of Baku
The fact, that the country has a completely different, unknown side is a discovery for which one does not have to drive far from the glittering capital. As soon as you leave the eternal traffic jam of Baku behind, it is getting quiet in the hinterland. You will find gravel roads instead of modern highways and dilapidated row houses instead of glittering skyscrapers.

Azerbaijan travel: Landscapes like postcards
Next stop on our trip is the region of Quba, which is three hours away. Unlike in the capital, the streets here are not lined with Toyota, Mercedes and BMW, but mostly with old Lada BA3, often so lovingly restored, that probably every European collector would be jealous. We pass old Jewish men who sit on tiny stools and play Backgammon while tanning their already wrinkled faces in the midday sun. A place, where the world seems to be still in order.

Azerbaijan travel: In the mountain village of Xinaliq time seems to have stood still
It is impressive that religious minorities are very well tolerated in the Republic of Azerbaijan, given that 98% of its population is Muslim and thereby the clear majority. A prime example is the district of Krasnaya Sloboda, rather called the "Red Settlement", a Jewish community in the middle of Rayon Quba. This is a place where about 4,000 Mountain Jews live peacefully alongside their Muslim neighbours. Synagogues stand alongside mosques. Jewish bakers sell their fragrant bread while the muezzin calls to prayer. There is even a Shiite mosque that once used to be a Christian church.
Azerbaijan travel: The Jews in the Red settlement in Cuba live next door to the Muslim population
Our journey continues. We quickly leave Quba behind, as we drive higher up into the heart of the wild Caucasus. No more mobile reception. The pulse goes down quickly and one recognizes a comfortable silence, only now and then torn away from the roar of our minibus. With every meter, it seems that the air gets thinner and the roads worse.

An old woman at Mount Besh Barmag, the Five Finger Mountain
Azerbaijan travel: Xinaliq, a village that seems to be forgotten
Hours later we arrive in Xinaliq, in the middle of the Great Caucasus Mountains, that divide Russia and the South Caucasus. The mountain village on the edge of the 4,243 meter high Şahdağ Massif is considered the highest altitude village in Azerbaijan. Certainly, however, it is the most remote and most isolated of all. We see unreal green valleys that alternate with rugged mountain ranges and hills so picturesque, as if painted into the landscape personally by Caspar David Friedrich. With every new sight, one has to rub one's eyes.

Azerbaijan travel: A young man staring at sheep instead on his mobile
And then, stacked on a steep mountainside like doll's houses one finds the 380 clay dwellings of Xinaliqs 2000 inhabitants, mostly handcrafted stone by stone, so you can take a short look through the gaps in between the houses when passing by.
Azerbaijan travel: The children of the Caucasus
In between one can see dogs playing around who have probably never seen asphalt before. And farmers who slaughter animals just outside their houses and in front of their kids, children who look at you with expressions that could not be any more curious, any deeper and more mysterious, with eyes that say that they probably have never seen such a thing as a camera.
Somehow Xinaliq looks a bit like a forgotten village, a small oasis of simple life in Azerbaijan – a country, that would rather live the life of tomorrow already today.
Azerbaijan travel: Staying with horses, cows and a baby donkey.
When it gets dark in Xinaliq, natures big show begins. From minute to minute the colours of the mountains and valleys, fields and meadows change, from yellow to orange and deep red, until the night is rung with a sparkling starry sky, as clear as it is rarely seen in Europe, a night in that you can hear nothing else than the howling of the dogs in the yard and the clamour of the chickens in the barn. Goodnight Xinaliq!
Azerbaijan travel: When it gets dark in Xinaliq…
The next morning starts early and brings us back to Baku quickly. We look forward to a special highlight of our trip, the meeting with a fortune-teller lady, who was personally contacted by Achmet, our  tour guide interpreter, and invited over to the capital. Normally, she will explain later, she only predicts the future under a fig tree at Mount Beshbarmag, the so-called Five Finger Mountain.
Azerbaijan travel: Besh Barmag Mountain in Azerbaijan rises above the Caspian Sea
However, disillusion already starts on encounter. Whoever expected a mysterious woman with a glass eye, a thick wart and crystal balls is completely wrong. The person we meet is a small, sprightly lady in a simple, striped dress, with a white glittering rag on her head and a steady, satisfied grin on her face. It seems that at least her future seems to be quite bright.
First, she kisses everyone on the cheek as if we were all good old friends. Then, successively, we join her on the bench and let us predict the future, which is not read out of our hands. Instead the old lady just asks a few personal questions. Are you successful in your job? Do you have back pain? Are you divorced? Did you almost drown as a child?
While Achmet can hardly keep up with translating, a queasy feeling is beginning to spread in the tour group. The old woman is actually right with so many statements. But how does she know all that? A question that will remain unanswered. And so the fortune-teller will soon disappear as she came, in the entrance of a metro station in glittering Baku with nothing else but a big grin on her face.
Anekdotique was a guest of The Ministry Of Culture And Tourism Of Republic Of Azerbaijan.