Beats, bombs and Bauhaus: Israel's port city of Tel Aviv
In recent years, Tel Aviv became one of the trendiest places in the world. However, the Mediterranean city is much more than just hip. It symbolizes freedom and pluralism like no other place in Israel and surprises first time visitors with an incredible variety of attributes. Tel Aviv is the perfect mix of oriental and western, urban and provincial, busy and relaxed, hot and cool. Tel Aviv is…
…placid:
When you look at the vast sandy beach, the narrow streets, the pavement cafes and charming boutiques, you immediately think you are somewhere on the Adriatic coast or in southern France. However, the harbor town is located in the Middle East and only a stone's throw away from conflict areas like Gaza, Syria and Egypt.
On most days, when there is no bomb from Gaza landing in the suburbs, you don't feel a special tension here – in contrast to Jerusalem that is only a one-hour drive away. It almost feels like there is a constant sea breeze that just blows any controversy away from the city.
Anyways, the rocket never comes totally unexpectedly and of course one should regularly have a look at the websites of Foreign Offices for the latest assessment of the situation. Nevertheless, when it comes to security, the answer is simple: Tel Aviv is not less secure than London, New York or Barcelona.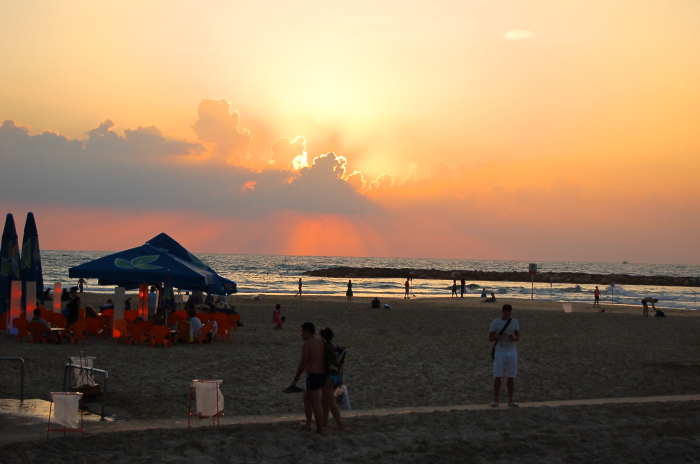 …athletic:
There is always something going on on the long beach promenade that goes from the port of Jaffa to the marina. Everyone who is sporty, goes jogging or inline skating, does yoga, plays volleyball or beach tennis or rides a bicycle. And the amazing thing is: everyone here seems to be sporty. During daytime, the beach and the long
esplanade turns into a huge open-air fitness club, from dawn until late in the evening.
…tanned:
Somehow everyone seems to have a five-hour job. Or maybe they all work in the sun? I really have no clue why the citizens of Tel Aviv are so outrageously tanned.
…lively:
In Tel Aviv life takes place on the streets: in many restaurants and falafel places, on boulevards, at the Carmel Market, on the Jaffa Flea Market and so on.
…young:
The youth is omnipresent. Rarely have I seen a city so full of youthfulness. There is music everywhere and people sit in street cafes, in front of their shops or on roof terraces. And they do it until the next morning.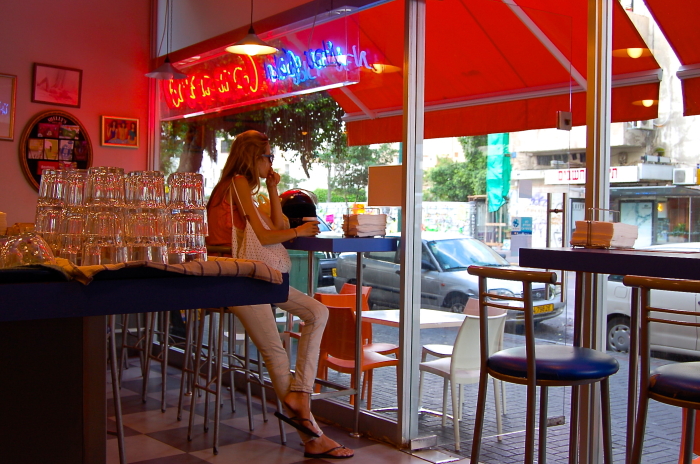 …old:
Contrary to what most people think, Jaffa is not a district of Tel Aviv. It is exactly the opposite. Tel Aviv was originally designed as a suburb of the ancient port city of Jaffa, a quarter that is often misleadingly called 'old town'. Anyway, this term is at least not that wrong, because the old streets, bars and antique shops are full of people of the older generation who spend the day together.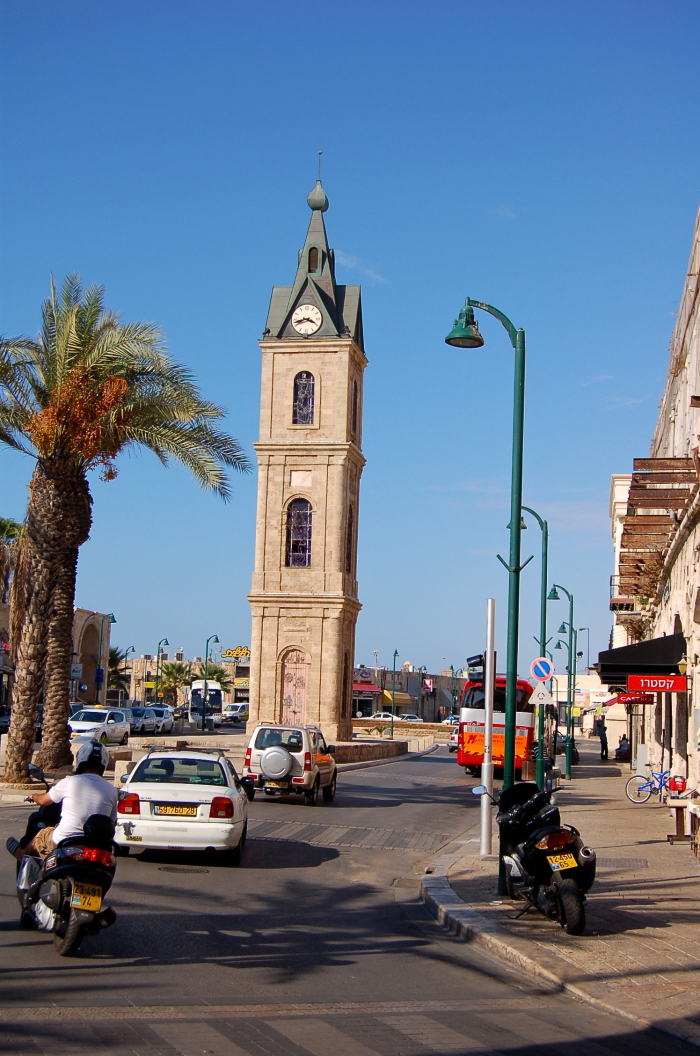 …busy:
The Carmel Market is Tel Aviv's largest fruit and vegetable market and offers everything that is useful or useless from fake clothing to housewares, flowers and food from the Middle East. Except of course on the Sabbath.
…idyllic:
Once you left behind the hustle and bustle of the market, you get into the Yemenite Quarter, an area full of small, colorful little houses with pretty flower gardens. Here it is suddenly pleasantly quiet. Dogs run across the street and old women water their gardens. What a nice place to stay for a while. In one of the cheap restaurants, for instance.
…artistic:
The whole city is full of street art. For example, there is a wall that is full of colorful tiles. One the most impressing thing, was a giant Israeli flag hanging on the wall of an official building, where someone cut holes in the fabric. Now it looks as though the blue Star of David would shed big tears.
In some areas, you can discover something new around every corner. Who needs
hip pioneers like Banksy or JR, if you have a young and lively generation of Israelis.
…rebellious:
Some even protest by camping near the official buildings and places. It really looks like a tight-knit community. What is probably not as far-fetched as it seems.
…ancient:
Thanks to German Bauhaus architects who had to fled from the Nazis to Palestine in the 30s, one could put the whole area around Rothschild Boulevard and Dizengoff Street in an architecture museum. With thousands of Bauhaus buildings, Tel Aviv has managed to become a UNESCO World Heritage Site. To make sure it stays that way, some buildings should be renovated sooner rather than later.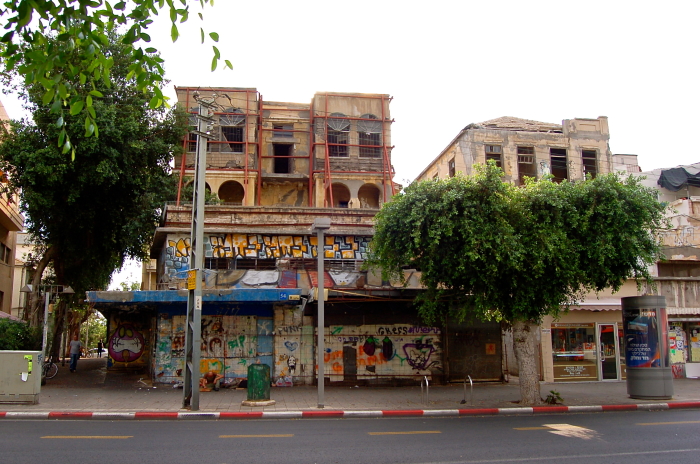 …culinary:
Throughout the city, and above all in the Arab quarter, there are plenty of small fruit stalls selling freshly squeezed pomegranate, lemon or orange juice. Not to forget all the small bakeries with sticky sweet baklava and Arabic mint tea. And of course there are hip shisha bars on the beach.
…picturesque:
Neve Tzedek was the first Jewish neighborhood and is very idyllic: Sand colored or very colorful painted houses, plants that overgrow the balconies, cats sitting on canopies in the sun and the smell of fresh coffee coming out of open shutters. The oldest Jewish Quarter is perfect for a walk, although it is so small that you'll only go around in circles.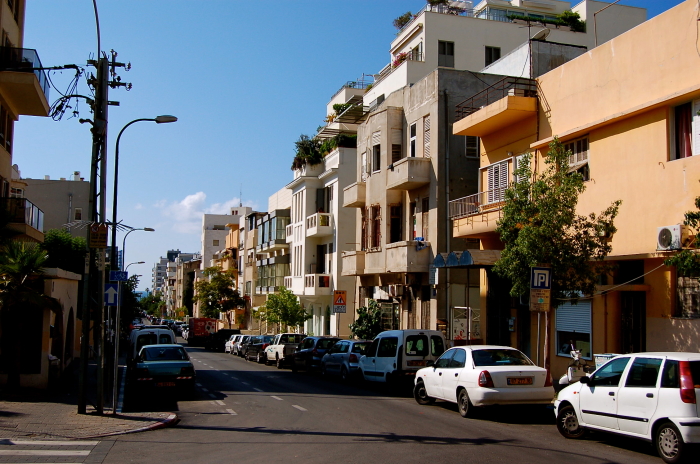 …daydreamy:
Lying on the beach, sitting on a roof terrace or strolling through Jaffa: Tel Aviv is perfect for lazing through the day without feeling bad about it. Finally, most of the attractions are not here, but in Jerusalem. And there is much more to tell about the Capital of Israel. More on that soon.
Have you been to Tel Aviv or somewhere in Israel? What anekdotiques and tips do have from there? Leave a comment!
Enjoyed this article? Follow me on Facebook and get notified about new posts!