Vienna and the lightness of being
Live and let live – Vienna is the city of comfort. Somehow the people of Austria's capital city seem to be more relaxed, more easy-going than the Germans for example. They seem to have realized what makes life worth living. Above all: hearty meals, good coffee, rich green gardens and impressive buildings.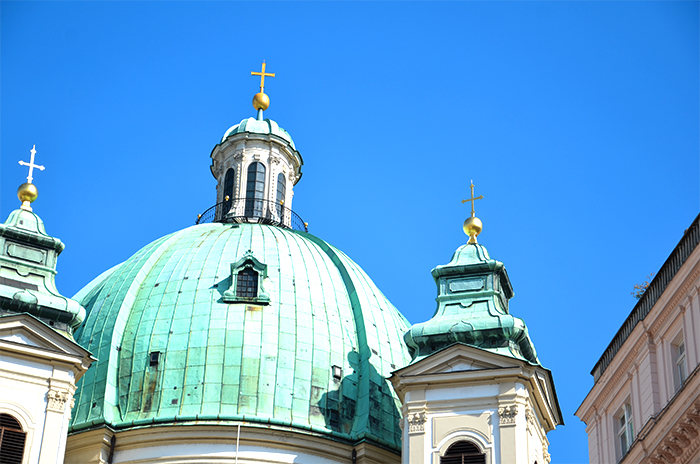 First thing that came to my mind, when I arrived in Vienna: this city has probably never suffered from war. There are hundreds of magnificent, if not even pompous buildings. Actually, I was wrong. The fact is, that the city was bombed fifty-two times during World War II. Nevertheless, almost every building bears witness to the long history of the country and its monarchy, whether it's Schönbrunn Palace, the Hofburg, the town hall or the famous opera house. And every building tells its own story.
Much of the city still has the charm of the old Empire, the times of Sissi and Franz. For some people, this may seem corny or cheesy. And to be honest, it's just like that: pure kitsch, but in its finest form. And if it wouldn't fit to this city so extraordinary well, you could make fun of it all day long.
In some places, you get the feeling that a window might open all of sudden and young Sissi (Elisabeth, Empress of Austria and Queen of Hungary) might look out of it, in a very happy mood, calling her husband Franz (Franz Joseph I of Austria). And right in this moment, Franz might come out of the forest on a horse and in his hunting dress, with a cute little, but dead, dear in his hand and a smile on his face. Sissi might, of course, be clearly unhappy. Finally, she was an animal lover for all her life and never liked her husband's hobby.
Well, there are still the modern parts Vienna to bring you back to reality. The MuseumsQuartier for example, close to the town hall, was opened as a meeting place for the young art scene a decade ago and is a collection of a few new and a bunch of completely renovated buildings of the former Hofstallungen. Today they are home to a number of museums and charming cafes where the hip Viennese spents the day.
This is a thing you can actually do everywhere in the city. Specifically is places, wherever they offer something to eat. Because there is one thing the Austrians do particularly well: cooking and baking. Whether it's Wiener Schnitzel (yeah, you know that one!) or Kaiserschmarrn (sugared pancake with raisins, but much better than any pancake you might know) – you can almost eat your way through the city. The menus are so huge that you can hardly decide. One meal is better than the next, one restaurant better than the other.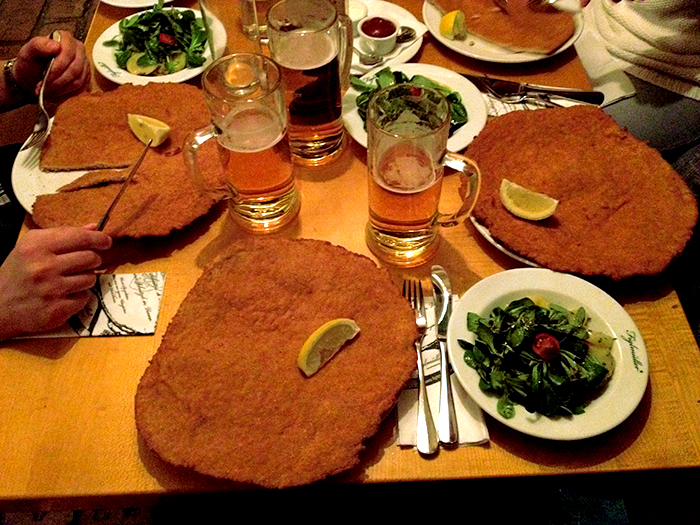 Vienna is an all day long culinary temptation. In the morning you start with a Viennese breakfast. For example in the Café Schwarzenberg, which has been around since 1861. At lunch time you get yourself a goulash soup or even better, a Leberkässemmel (no matter if hungry or not. It's a bun with a special kind of meat that consists of corned beef, pork, bacon and onions and that is made by grinding all ingredients finely and then baking it as a loaf in a bread pan until it has a crunchy brown crust.) Then, sweeten your afternoon with a Sachertorte (the famous viennese chocolate cake) and Wiener Melange (a viennese style caffe latte) or alternatively a piece of Arnold Schwarzenegger's favorite food: apple strudel with whipped cream. By the way, the Austrians call the cream "Schlagobers" or simply "Schlag".
The language here is a special kind of German. Any German could understand the Austrians, or let's say those of the southern parts of Germany should be fine with it. Nevertheless, they have special words, that most Germans never heard of. Tomatos for example is Tomaten in German, but the Austrians call it Paradeiser. A half liter of beer would be a halber Liter Bier, but the Austrians have a special word for it: Krügel. And so on. There are much more words to learn, even as a German.
After all, the Austrian accent and specifically the one that is spoken in Vienna, doesn't sound weird to German ears, bit somehow cozy and loveable.
I know for sure, than this was not my last visit to beautiful Vienna. If you're hooked, go there one day. Be it for a long walk through the gardens of Schönbrunn Palace, for an eating marathon through the city or just for a good portion of coziness.