Tsukiji Market in Tokyo – The last days of the world's largest fish market
Tsukiji Market (築地市場, Tsukiji Shijō), formerly known as the Tokyo fish market is the world's largest seafood market and definitely a must-see when visiting Japans megapolis – sooner better than later, because it will soon be closed forever.
The early bird gets the fish
The most important thing when planning to visit the market is to wake up early. And I mean very early in the morning, like 3-4 o'clock early in the morning.
Visiting the tuna auction
The reason for that is, that you don't want to miss the tuna auction, which is the biggest highlight of the whole place. The queue starts before 5am and the auction is limited to 120 people, so better be there as early as possible. If you plan to do so, apply at the Osakana Fukyu Center at the Kachidoki Gate. Although I managed to wake up that early (and I'm still damn proud of it), I didn't make it to the auction.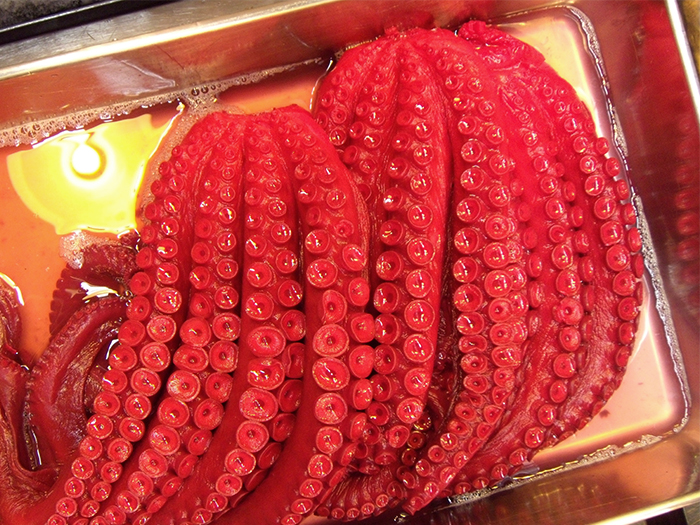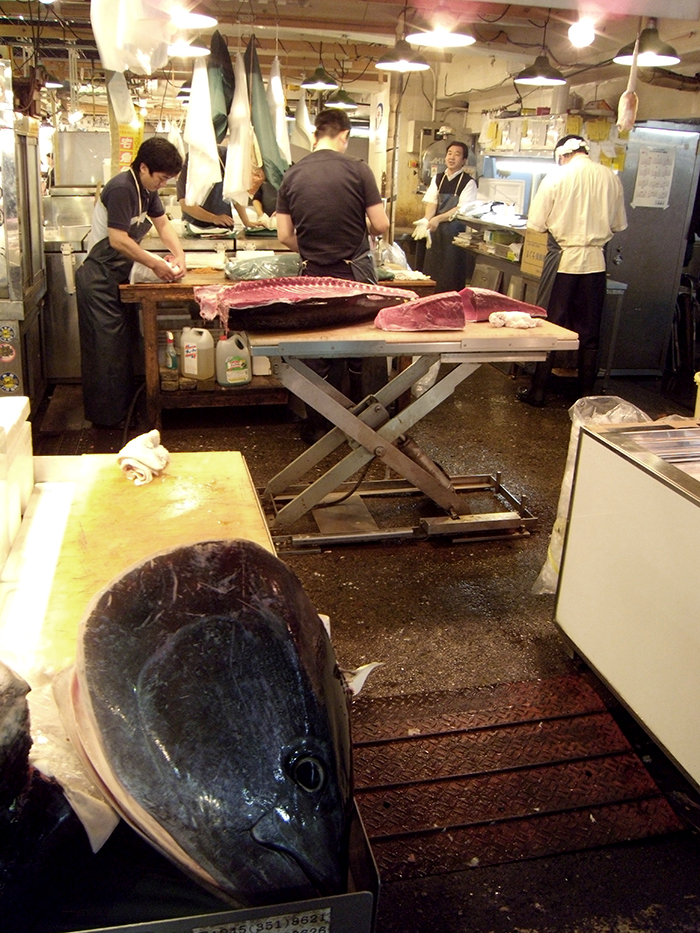 Visiting the wholesale area
Nevertheless, there is still enough to discover. The area which consists of hundreds of small stands in a crowded hall, is so huge, that it's hard not to get lost. There are fishes and other seafood as far as the eye can see: tuna, barracudas, mussels, giant squits and many many others. There is more seafood than you can find in a maritime museum or a pixar movie.
Visiting the outer market
The Tsukiji's outer market is located just adjacent to the inner market and consists of a few blocks of tiny retail shops and restaurants serving the freshest sushi breakfast you can get in the world. But be aware, the queue is easily two to three hours. Also, in case you're up for a good japanese knife, this would be a good place to look for it.
Breathing in the atmosphere
However the best thing about Tsukiji Market is the atmosphere of buyers and sellers, scooters and trucks hurrying around in the wholesale area. Even as a visitor you are in the middle of everything, which is amazing. You wonder along narrow lanes, still half asleep, while thousands of workers do their best to get their shit done in time. And exactly therein lies the problem: for you it might be a great sight, for them it's hard work.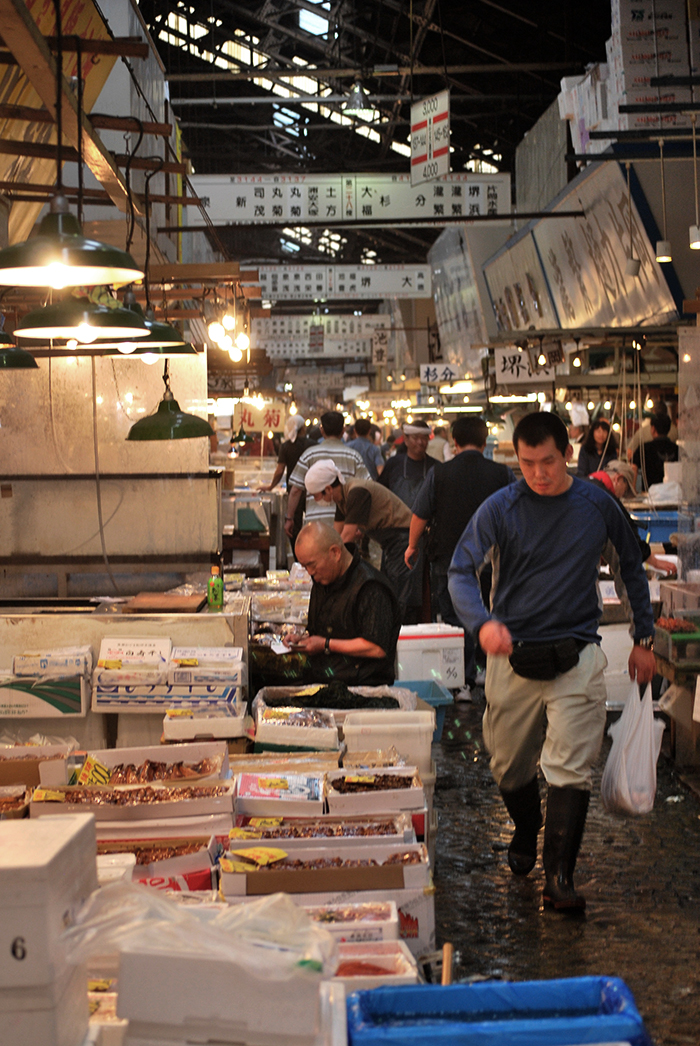 In case you ever make it to Tsukiji, please have this in mind:

– Avoid blocking traffic
– Don't touch anything
– Be nice to the guys who you disturb at work
– To bring your largest bag or suitcases is not a good idea
– Better wear your high heels at another time of the day
– It's not a good time for sandals either
– Don't you even dare to smoke!
– Be careful and watch out
– If you're planning to bring a child, be carefull and watch out for two
– And no, better don't bring cats or dogs or whatever pet with you, that likes to play around with fishes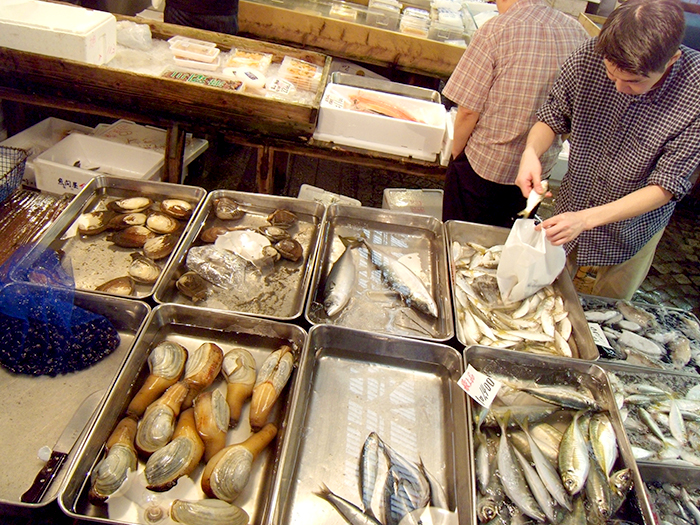 In fact, the number of visitors has increased so much over recent years, that they have become a serious problem to the business.
That (and the upcoming Tokyo 2020 Olympics) is the reason why the market will be closed – yes closed forever. And it is expected to move to a new site in Toyosu by spring 2016. So in case you want have this place on your bucket list, you'd better hurry up. It's worth it.
HARD FACTS
Transport: Tsukiji Market is above Tsukiji Shijo Station on the Oedo Subway Line or a five minute walk from Tsukiji Station on the Hibiya Subway Line.

Opening hours: Outer Market: 5:00 to 14:00; Wholesale Area: open to visitors after 9:00am; Tuna Auction: open to visitors from 5:25am to 6:15am (restricted to 120 visitors/day)

Tuna Auction: Get in the queue at Osakana Fukyu Center (Fish Information Center) at the Kachidoki Gate from 5:00am. First-come, first-serve basis. The are two groups of 60 people that are allowed to get in each morning.

Admission: Free
Have you been to Tsukiji Market in Tokyo? What anekdotiques and tips do have from there? Leave a comment!
Enjoyed this article? Follow me on Facebook and get notified about new posts!