We love Sölden – an Anekdotique Travel Guide
"We love Sölden" Three words that still cause bad feelings for many local residents of this picturesque municipality in the southern part of the Ötztal valley of Tyrol, Austria. Actually this statement was once well meant. Then last year the German private broadcaster Pro7 came to this idyllic area with a bunch of partying teenagers that painted the town red.
At least since then Sölden has the reputation of being a huge party-region. It really is. But that's not the point at all, because in addition to a wide range of après-ski venues, the region offers plenty of other reasons to learn to love Sölden.
Source: Ötztal Tourismus | Photographer: Rudi Wyhlidal
First of all, Sölden offers 144 kilometers of slopes and 30 ski lifts, a huge ski area that brings new shine to the term "high alpine".
With perfectly groomed slopes and trails of all difficulty levels, just waiting that someone leaves the day's first lines in the fresh snow, whether snowboarders or skiers, cross country skiers or powder fans, whether world-class skiers or those who soon want to become one.

Source: Ötztal Tourismus | Photographer: Ernst Lorenzi
There is not only one gigantic glacier in Sölden, but two that are connected by lifts and an impressive ski tunnel: the Rettenbach Glacier and the Tiefenbach Glacier.
And for a comfortable transportation in the ski resort there are plenty of ultra-modern lifts, gondolas and cable cars. Above all, the Giggijoch-Bahn carries winter sports fans from the lower terminus on 1,350 feet above zero to 2,284 meters above sea level. Only at bad snow conditions, one has to drive up the glacier road up to the Rettenbacher glacier by car.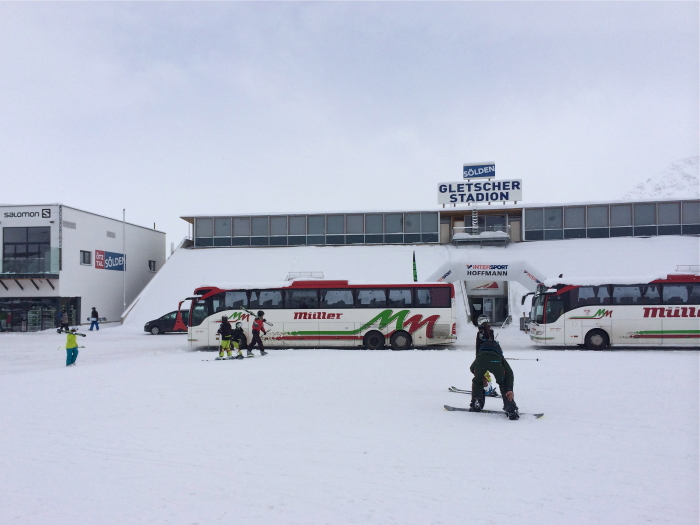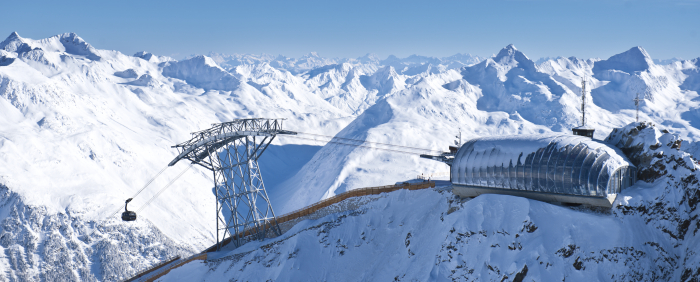 Source: Bergbahnen Sölden | Photographer: Albin Niederstrasser
But there is even more. Sölden comes up with something else that is out of the ordinary: 'The Big 3', three imposing three-thousanders which are accessible by cable car systems, interconnected and that surround the whole area like three majestic guardians: Schwarze Schneid (3,340 m), Tiefenbachkogl (3,309 m) and Gaislachkogl (3,058 m).
All three are real mountain giants who offer not only breathtaking descents but breathtaking views as well. The only thing that can take the pleasure is bad weather.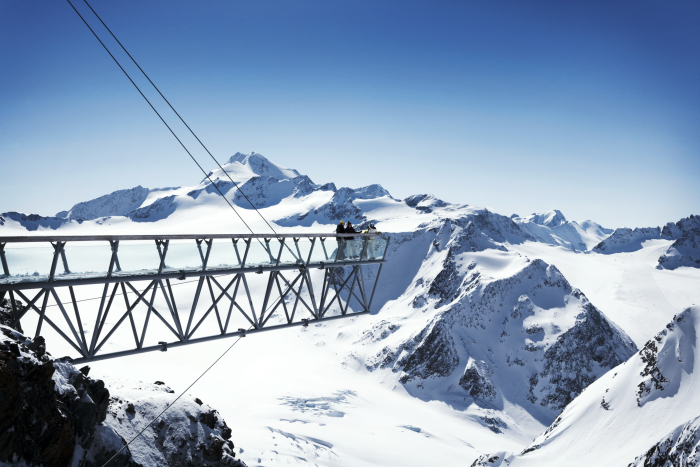 Source: Ötztal Tourismus | Photographer: G.E.
But in case you have the good fortune to catch a nice day, you definitely have to check out Europe's highest viewing platform with the best panoramic view of all: the Schwarze Schneid, which rises to 3,340 meters above an expansive panorama with a glass-paneled 20 meters long dock. Who dares to go up, has a tremendous view to the famous Wildspitze, Tyrol's highest mountain.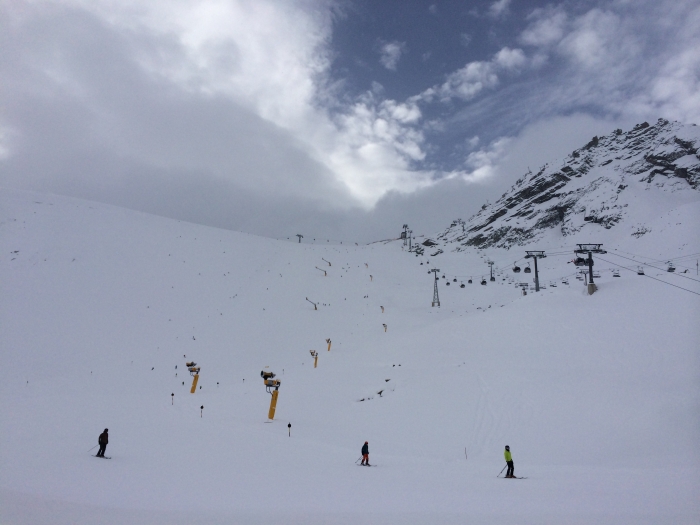 Source: Ötztal Tourismus | Photographer: Ernst Lorenzi
Yes, Sölden definitely has a lot of unique experiences to make winter sports fans more than happy. And after a long day in this vast ski area, you are surely not in need of all the extreme après ski fun, that waits for you deep down in the valley. Besides the fact, that you certainly deserve it.
HARD FACTS SÖLDEN:
Sölden is located in the west of Austria in the federal state of Tyrol in a southern tributary of the Inn valley – the Ötztal.
How to get there: In addition to traveling by car and train directly to the Ötztal, there are lot's o fair connections to Innsbruck. For example, from many German cities like Berlin, Dusseldorf, Frankfurt or Hamburg but, of course, also from other European cities such as Milan, Paris or Zurich. From Innsbruck, you can go directly to the Ötztal with the Ötztal Shuttle (bus).
Ski resort: snow guarantee from October to May; 144 kilometers of ski slopes, 33 lifts
Altitude of the ski area: 1.350m – 3.340m
Longest ski run is 15 miles and 2,000 vertical drop of the BIG3 platform Schwarze Schneide (3,340 m) to the valley (1,350 m).
Ski Pass: Adults from 50,50 €, children from 26,50 Euro.
Have you been to Sölden? What anekdotiques and tips do have from there? Leave a comment!
Enjoyed this article? Follow me on Facebook and get notified about new posts!