Bucket List Destinations: my Top 5
Having a Bucket List is en vogue these days. And when it comes to Bucket list destinations, there are many countries that rank high on my imaginary wish list. Most of them are far far away – either geographically or just beyond my pocket book. Here are my Top 5 dream destinations, that definitely no one should miss.
Bhutan – Where happiness is at home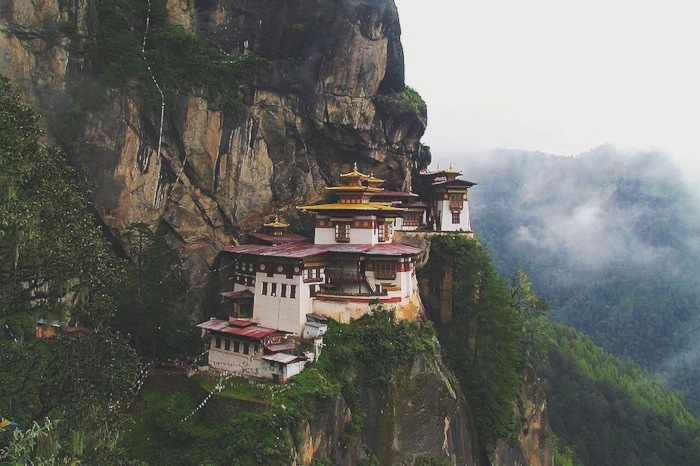 Bucket list destinations: Bhutan. Photo: Wikipedia
Why is Bhutan one of my bucket list destinations?
Bhutan is nestled in the Himalayas between India and China, far away from civilization, far away from Wi-Fi, scheduling problems and global economic crises. As if this was not enchanting enough, the government of Bhutan regularly measures the Gross National Happiness of the country. Any more questions?
What I want to do there?
In photos, the bucket list destination Bhutan seems to have fallen out of time. If you ask brother Google for the country, he spits out images of Buddhist cleanliness and landscapes of almost surreal beauty. The Kingdom of Bhutan maintains its own traditions, in which I would like to immerse for a while to do exactly what the Bhutanese do: be happy.
When to go to Bhutan?
In every season, except from June to September, when the monsoon has the strongest effect.
How to get to Bhutan?
There are only three roads into the country of Bhutan, all from India. Why not just take a flight, you think? Well, there is only one airlines, Drukair, that offers flights to only one single airport: Paro airport. Also there are only flights from Bangkok, Kathmandu, Singapore and from several Indian cities. Pretty complicate? Well, no one said it would be easy.
Greenland – Time to melt away

Bucket list destinations: Greenland. Photo: Stephan Orth
Why is Greenland one of my bucket list destinations? 
Greenland teaches you about proportions. There are gigantic icebergs, huge ice floes and polar bears weighing several tons. There are fat whales fat and there are the Northern Lights. Greenland has enough space for all of your outdoor dreams.
What I want to do there?
That is easy: look left and look right. And look left again and look right again… until I'm at least a bit tired of it.
When to go to Greenland?
When depends on 'how'. And that is probably by ship. The best time to visit Greenland should be from July to mid September, because at that time the waterways are open and tone can experience Greenland from the coast.
How to get to Greenland?
This is not so easy. You can catch a flight to Greenland only from Denmark, Iceland and Canada. And then you have to go with said vessel to where the polar bears tell themselves good night.
Want to know more?
Anyone interested in Greenland with knowledge of a little bit of German should check out Opas Eisberg: Auf Spurensuche durch Grönland by my buddy Stephan Orth.
Papua New Guinea – The End of the World

Bucket list destinations: Papua New Guinea. Photo: Wikipedia
Why is Papua New Guinea one of my bucket list destinations? 
O.K., I know what you're thinking: What does he want there at all? And what is there anyway, except probably some strange cannibals? Well, to be honest, I do not know either. That's why I want to go there since the first time I sat on the beach in Bali and realized that there is not so much more coming in the east of Bali and Lombok. Well, besides Papua New Guinea.
What I want to do there?
Rugged highlands, deep valleys and impassable thicket. There are over 700 strains of which almost every single one speaks their own language. That is unbelievable!
When to go to Papua New Guinea?
To avoid the rainy season, best time to go to visit Papua New Guinea is between June and September.
How to get to Papua New Guinea?
From Singapore, Hong Kong, Denpasar, Manila, Tokyo or from some airports in Australia to Port Moresby. For example with the state airline Air Niugini.
Brazil – Long Live Life


Bucket list destinations: Rio de Janeiro. Photo: Steve Hänisch, Back-packer.org
Why is Brazil one of my bucket list destinations? 
I've never been in South America! On top of my bucket list are Argentina, Chile and Brazil, not just since the World Cup. In my dreams Brazil is something like a maximum of pure joie de vivre.
What I want to do there?
I want to fight my way through the rainforest with the machete, I want to stand in front of the Iguaçu Falls with a pseudo-melancholic look on my face, I want to paddle down the Amazon, enjoy caipirinhas on the beaches in Rio and want to loose badly against children in beach soccer. That is exactly what I want to do! And all the other clichés. What I want is a Brazilian overdose, please!
When to go to Brazil?
It depends on the region. For the region around Rio de Janeiro the time between May to October is perfect.
How to get to Brazil?
Once across the pond, please! For example, with TAM Airlines, the largest airline in Brazil. They also have the most destinations within the country, so I guess they are the perfect airline for domestic flights.
New Zealand – In the middle of Middle-earth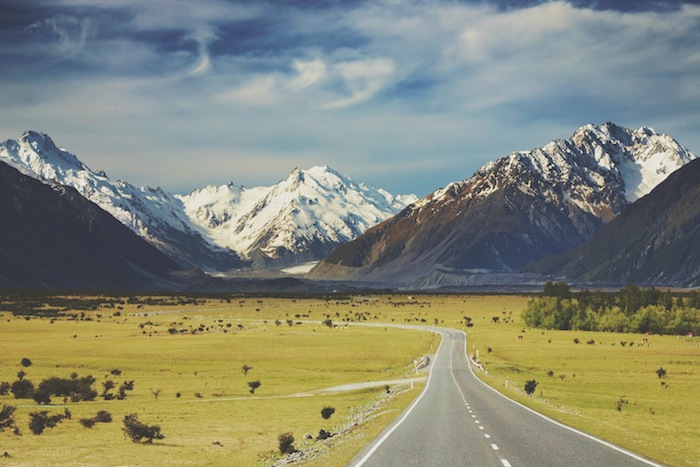 Bucket list destinations: Middle Earth aka New Zealand.
Why is New Zealand one of my bucket list destinations? 
For me, New Zealand has always been that kind a travel dream, that I always rescheduled to the future. Maybe because there is hardly a bucket list destination that is farther away from my home country Germany, but maybe also because there is hardly more pristine landscapes or more sheep. New Zealand has always been the journey that I want to do when there is enough time to do it, and enough money to afford the expensive flights. But the more time passes by the more I am thinking it's now or never!
What I want to do there?
Nothing. And I'm really serious about that. New Zealand has 268,000 km² and only 4 million inhabitants. In other words, there is untouched nature everywhere. Well, I guess in some places there is nothing except sheep. Tons of sheep.
When to go to to New Zealand?
The best time to get this country off your bucket list is the European winter. Because in the European winter, it is summer in New Zealand! (…and in Australia. What? You haven't been in Australia? Check out the 15 reasons to visit Australia for the trip of a lifetime! And visit one of the most beautiful beaches of the world: Whitehaven Beach on the Whitsunday Islands.)
How to get to New Zealand?
That depends on where you are coming from. Due to the fact that I live in Hamburg, Germany, I would love a trip with stopovers somewhere in the orient and in Asia, and the return journey could bring me to Tonga first, then Fiji, Tuvalu and America. Oops, I guess that would be a round the world trip. Ah whatever.
Need more inspiration on bucket list destinations? These are my favorites:
Note: This post about Bucket list destinations was created in partnership with TAM Airlines.