15 reasons to visit Australia for the trip of a lifetime
Reasons to visit Australia? C'mon mate! Weather for a two-week trip or for doing work and travel, Australia usually lands on most people's bucket lists for a reason. If it's not already on yours, here are 15 reasons why it should be. And why your trip will be the trip of a lifetime!
1. In Australia it is always another day in paradise

One of the good reasons to visit Australia: Whitehaven Beach in Queensland
Stop looking for paradise now! I've found it for you. It's called Whitsunday Islands and it's off the eastern coast of the Australian state of Queensland. You can get there by a sailing vessel (for a good amount of money) or by seaplane (if your more the stinking rich kind of guy).
I promise, you will run out of words. The beach captured in the photo above is called Whitehaven Beach and has the whitest and softest sand one could imagine. I'm not sure if the linguistic proximity to the word Heaven is intended, but one could call the place 'The white heaven of Whitehaven' for a reason!
Want to know more about Whitehaven Beach and how to get there? Read my Anekdotique Travel Guide to the Whitsunday Islands!
2. The Australian Sun always smiles

Who needs reasons to visit Australia, when you have sunsets like this one
It's always greener on the other side (of the world). And sunnier! No matter where you go in Australia, the sun seems to really like this place and came to stay. And the best thing: it's a winter escape. Because when it is winter in the Northern Hemisphere it is summer Down Under.
Australia also has this very unique light. Landing down under by day always means the first glimpse of this special light, that you only have here at the end of the world.
On my last visit in 2013 we made the touchdown in Perth, Western Australia, while the sun was setting. And with every meter that we got closer to the ground, the light got more and more stunning. It's not just the sky that appeared in a somewhat orange-yellow-red mixture, but the landscape that seemed to glow from the inside. That's what I call a warm welcome!
3. Australia has the most diverse nature


One of the best reasons to visit Australia: beaches like this one called Long Beach near Byron Bay

12 reasons to visit Australia: the 12 Apostels (well, there are 4 or so left…)
Things to see in Australia? There are tons! In Down Under you can find some of the most stunning landscapes of the word: the Gold Coast, Fraser Island, the Whitsundays, Great Ocean Road, Kangaroo Island, Blue Mountains, Cape Tribulation, the Great Barrier Reef and all the other great national parks… the list of awesome nature spots seems to be endless.
They have the dry Outback, they have the tropical rainforest, they have some of the best surf and hike spots in the world! If you plan to take pictures while traveling through Australia, make sure you bring enough memory cards!
4. 
Australia is a sailor's dream

Sail away, dream your dream… one of the good reasons to visit Australia
Weird reasons to visit Australia? Here is one: The weirdest and most surprising thing I did on my four trips to Australia was a three day cruise with a sailing vessel to the Whitsunday Islands I just wrote about. It was an amazing trip! Sailing towards the sun, sitting on deck sipping on an ice-cold beer can, listening to music and having a good chat with all-new friends.
Sailing the Whitsundays is probably something every sailor dreams of. And it is just one Australian destination for sailing enthusiasts. There are hundreds of other great spots around the coast of Queensland. But also in Western Australia, South Australia, in New South Wales, the Northern Territory and not to forget all around Tasmania (or 'Tassi' as it is fondly called by the Aussies.)
For those who have not yet read the whole story about 'The ultimate Whitsunday Islands cruise: Party madness in a natural reserve of Australia', yes, there was a bunch of drunken Brits and there have been drinking games and other stories that are truly 'anekdotique'…
5. Aussies are a bunch of crazy people (in a positive manner)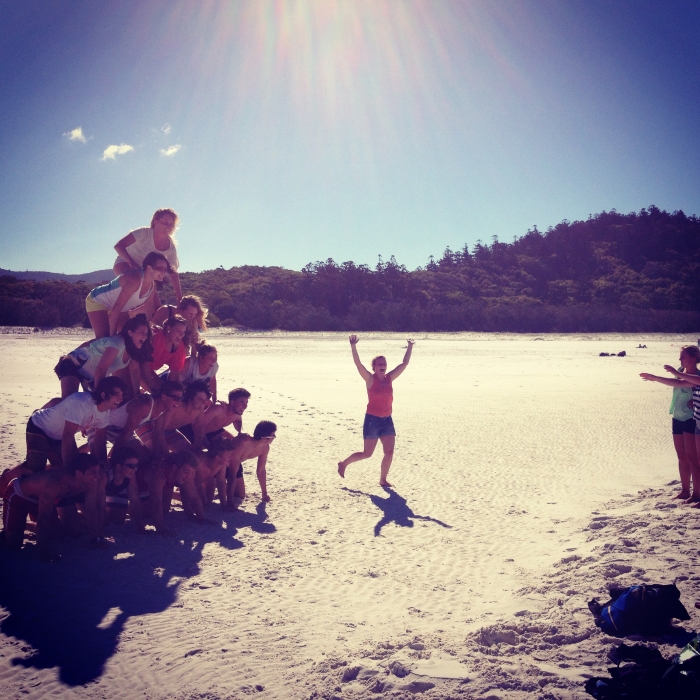 One of the best reasons to visit Australia are the people. Australians are super friendly and super funny. When traveling from town to town you meet a lot of crazy people from a lot of crazy backgrounds that do a lot of crazy things. Enough said. You have got to experience the Australian way of life on your own.
6. In Australia, sunsets are the best entertainment

Reasons to visit Australia: Talking about sunsets… and loosing words
The best Australian locations I have ever experienced for a sunset are those off any civilization like the Ayers Rock in the Outback and the sea around the Whitsunday Islands. Seriously, Australian sunsets really are worth every romantic wording.
And don't you dare going to bed right after it! Better wait till later, when it gets dark and the stars start to sparkle in the sky above you so crystal clear that you could cry. Sigh!
7. Australia calls for a Road Trip

Road Trips are one of my favorite reasons to visit Australia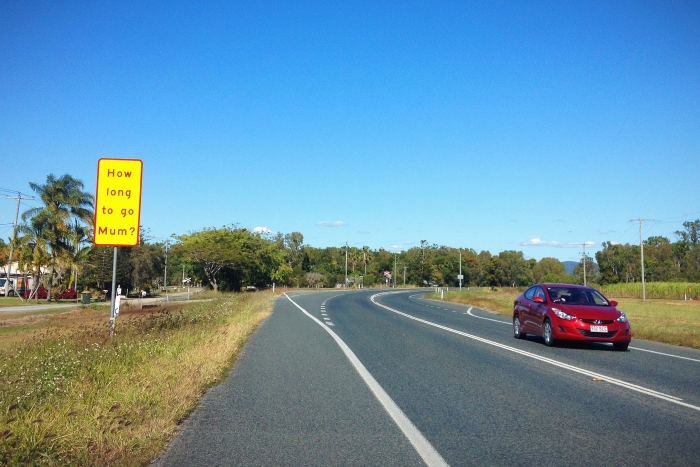 Reasons to visit Australia: signs like this one! I love them!
More reasons to visit Australia? Read on! Because Australia is perfect for hitting the road. With well-paved streets (except those in the Outback and up in the north of Queensland at Cape York where you really need a 4WD), cheap gas (well, actually it was much cheaper on my first visit ten years ago), very kind people when you have to ask someone for directions (that remained!!) and good radio stations. (Seriously Germany, is it that hard to come up with a radio station that does not repeat the "best" songs of the 70s, 80s, 90s and whatever's all the time?)
O.K. back to topic! To go on a road trip in Australia is all about opening your window, letting the warm wind blow through your hair and listing to good music. Sounds like a stereotype? It totally is. But come on, that's what your looking for, isn't it?
8. Aussies brew awesome beers

Reasons to visit Australia in four letters: Beer
Four X on a sign… no idea? When travelling through Queensland you will see this logo pretty often. The reason: it's a beer brand. I'm not quite sure who came up with the idea to cross something out that never existed just to have these four crosses as a beer name. I mean, seriously?
Believe me or not, Australians really brew a couple of good beers just like VB (Victoria Bitter) or Carlton Draught. Sadly, XXXX will certainly never be my favorite.
Here is a hint when you want to order beer in Australia for the first time: it's pronounced "Four X" and not "X, X, X, X". And never ever go to a bar and order a "Victoria Bitter" with your Oxford English… use the short term VB like everybody does here in OZ.

Who needs reasons to visit Australia when you have such a beer range?
Australia also has the best equipped bootle shops, with an unbelievable wide range of beverages. One shop I had been to offered at least 200 different beer brands from all over the world. They even had like 10 beers from Japan. How cool is that?
These bottle shops, liquor stores, bottlemarts or whatever you want to call them can often be found close to highways… is this irony? I don't now. But no, I'm sorry, you're not allowed to drink when driving.
9. Australians can cook. And fry. And bake. And barbecue. 

Reasons to visit Australia? Really good steaks for example
Australian cuisine comes up with lots of great dishes from meat to fish, from Australian Hamburgers to meat pies, from ANZAC biscuits to Vegemite.
And oh yeah, let's talk about meat! (Sorry vegetarians) Most Australians are united in meat love. The city of Rockhampton on the East Coast is named the 'Beef Capitol of Australia'. What an awesome title, isn't it?
You get the best meat far and wide in The Great Western, which is a hotel, a steak restaurant and a rodea show all in one. Here you can enjoy a delicious 700 gram cut of beef while watching bulls be chased through a rodea arena. True story.
10. Learn 'Strine' Accent, Mate!

Reasons to visit Australia: Sydney Harbour as seen from the ferry to Manly Beach.
As soon as you talk to an Aussie for the very first time in your life you will immediately recognize that Australians speak a special kind of English. Namely English with the "Strine" (= Australian) accent.
Never heard of that? A few examples to get you started: "G'dye, myte" means "Good day, mate", an "egg nishner" is an "air conditioner" and "Wyne chevva cold share" means "Why don't you have a cold shower."
See what I mean? It seems hard at the beginning, but you will get used to it and adapt the accent yourself soon. Just try to pronounce words as if you had a hot potato in your mouth. I'm not kidding, have a try! After your trip to Australia you'll speak a very different English, mate!
11. In Australia, they have cute kangaroos (and they eat them)


Reasons to visit Australia: Yes, you will see Kangaroos…dead or alive.
There are more kangaroos in Australia than humans! And Australians really love their national symbol. They let them live in wild nature, in national parks and in kangaroo farms. They put them on their coins, on their flags sometimes. And yeah, they love to eat them, too.
An Australian dude once asked me laughing: "So do you Germans eat your national symbol, the federal eagle?" Ahem, well….no. So much for that.
12. Australia has giant glowing rocks

The Uluru is one of my top reasons to visit Australia! Forever!
The Ulu…what? You might know it under the name Ayers Rock, although the Aboriginal name of this landmark pictured above is Uluru. It is a large sandstone rock formation that lies in the southern part of the Northern Territory in Central Australia and is one of those rare magical places that really leave you speechless.
The best way to experience it is during sunrise and sunset when you're not allowed to get close to it. That's why people meet on special parking areas to watch the sun go up or down and let the Uluru literally glow in a very special light. And while the sun sets and the sliver of the moon rises at silver-blue the horizon, you'll know that this is one of those rare moments you will never forget.
13. Australia is the End of the World as We Know It (And I Feel Fine)


Reasons to visit Australia: It's far far away
Australia really is the end of the word. And that's a great thing. Because the country or rather continent is so far away from America, Europa, Africa and most parts of Asia…. and from everything you want to leave behind: bad thoughts, bad mood, bad situations, must-dos, your ex-girlfriend… and everything else that is not your thing.
The Land Down Under is the perfect place to enjoy the good things in life and get rid of everything else.
14. Australia has the most vibrant cities


Reasons to visit Australia: the famous Sydney Opera House
From Melbourne to Sydney from Perth to Brisbane, Australia's cities are young, hip and vibrant! With a great art scene, lots of nice cafés, restaurants, small boutique shops and cool surfer dudes hanging around everywhere. Tons of good reasons to visit Australia!
15. In Australia, you will never be bored


5 reasons to visit Australia? Fun, fun, fun, fun, fun
And here is another reason to visit Australia: It is full of action. There are tons of things to do: surf, swim, sail, dive, fly, paddle, hike, drive, fish, cook, go whale watching or bungy jumping, play golf, cuddle a koala or swim with dolphins. Sounds great? The are endless possibilities for more than a lifetime!
Oh by the way, did you read my crazy Anekdotique about my sailing adventure to the Whitsunday Islands in Australia? Check it out here: The ultimate Whitsunday Islands cruise: Party madness in a natural reserve of Australia!
Have you ever been to Australia? What are your reasons to visit Australia? Leave a comment!
Enjoyed this article? Follow me on Facebook and get notified about new posts!