Nuremberg sausage & other delights: the best Nuremberg restaurants
Greasy Nuremberg sausage at 36 degrees celsius? Not a good, but an extremely tasteful idea. During the hottest summer in Germany I went on a culinary mission in the Franconian capitol of Nuremberg and fully hit the belly. Here is my culinary guide to the best Nuremberg sausage and more. Check out the most amazing Nuremberg restaurants!
Nuremberg sausage – 3 im Weggla
When it comes to food in Nuremberg (or rather Nürnberg how we say in German), Nuremberg sausage or Nuremberg Bratwurst might be one of the most well-known dishes. Did you know that the Franconians (people fro the region of Franconia) call it "Drei im Weggla"? This which means three in a bun.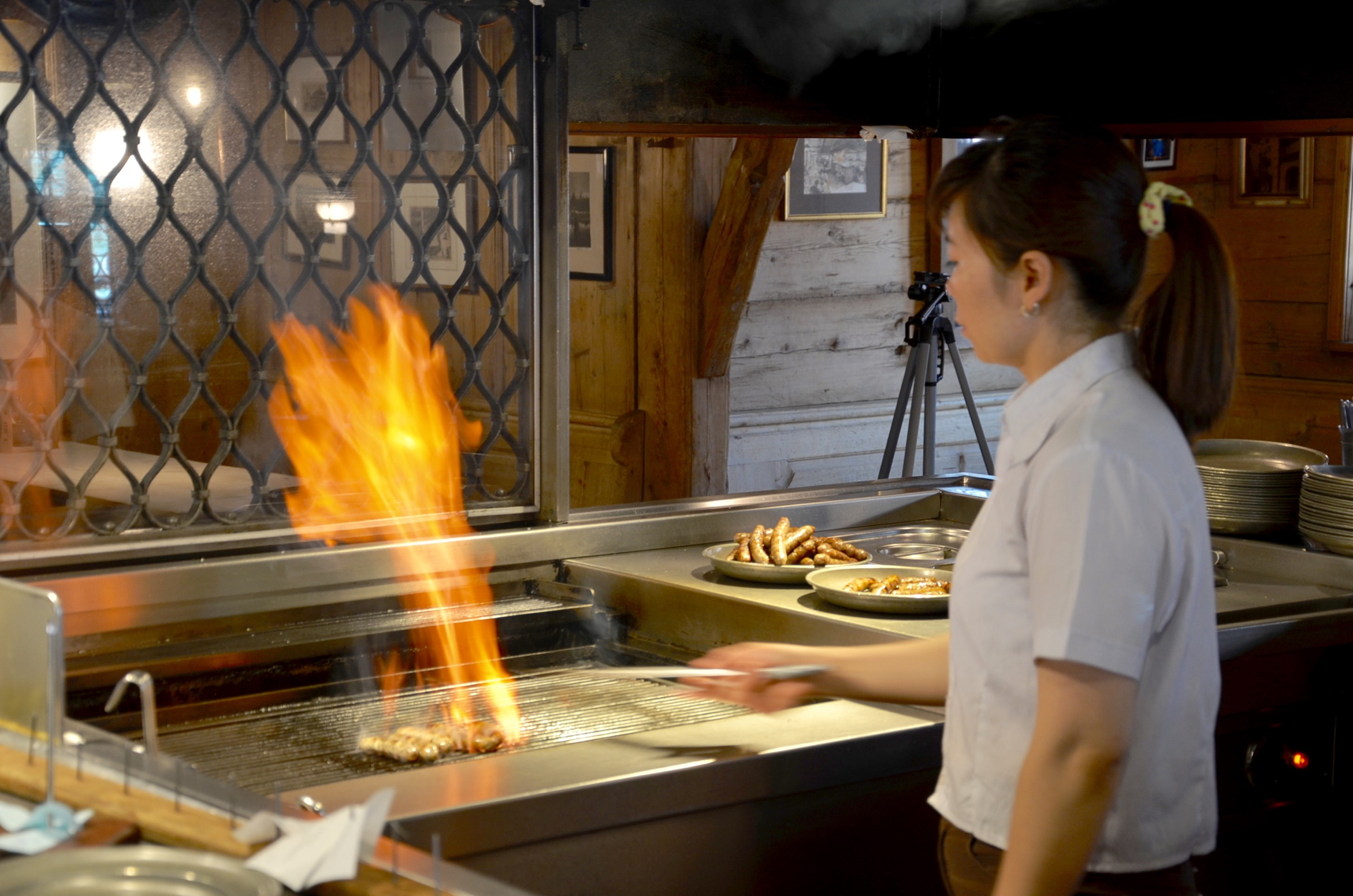 When in Nürnberg, Nuremberg sausage is a must-try
Nuremberg sausage is quite simple: Just take a Weggla, which is a white bun, and put three small sausages into it. Then garnish the whole thing with mustard. Hint: don't use ketchup, otherwise everyone will immediately know that you are a foreigner.
Where to eat Nuremberg sausage? Bratwursthäusle St. Sebald
There are many restaurants in Nuremberg that serve good Nuremberg sausage (or Nurnberger sausage or actually Nuremberg Bratwurst). The best might the so called Bratwursthäusle close to the main market. It's so authentic, after your visit chances are good that you even smell like smoked and grilled Bratwurst yourself. After all, their Nuremberg sausage is not only a home-made, but also grilled to perfection over a huge charcoal grill. Oh and by the way, more than three sausages are served on the plate.
Bratwursthäusle bei St. Sebald
Rathausplatz 1, 90403 Nuremberg
Brezn – the famous Pretzel
Pretzels Kolb serves pretzels with the most varied covering for every taste
Another classic is the pretzel. Here in Franconia they call it Brezn. You can get on every corner, whether with or without butter, chives, cheese or what your heart desires. And believe me, the Franconian pretzel in Nuremberg tastes a hundred times better than the ones made by the big bakery chains in the rest of Germany.
Where to buy? Brezen Kolb
Brezen Kolb supplies half the region with pretzels. Others just come by during daytime or buy pretzels on Brezn Drive, the Pretzels Drive-In. Yes, read correctly. In Nuremberg there is probably the world's first pretzel Drive-In. Just drive past to buy pretzels out of your car. Awesome idea, isn't it?
Brezen Kolb
Ostendstraße 138, 90482 Nuremberg
Lebkuchen – the real Nuremberg gingerbread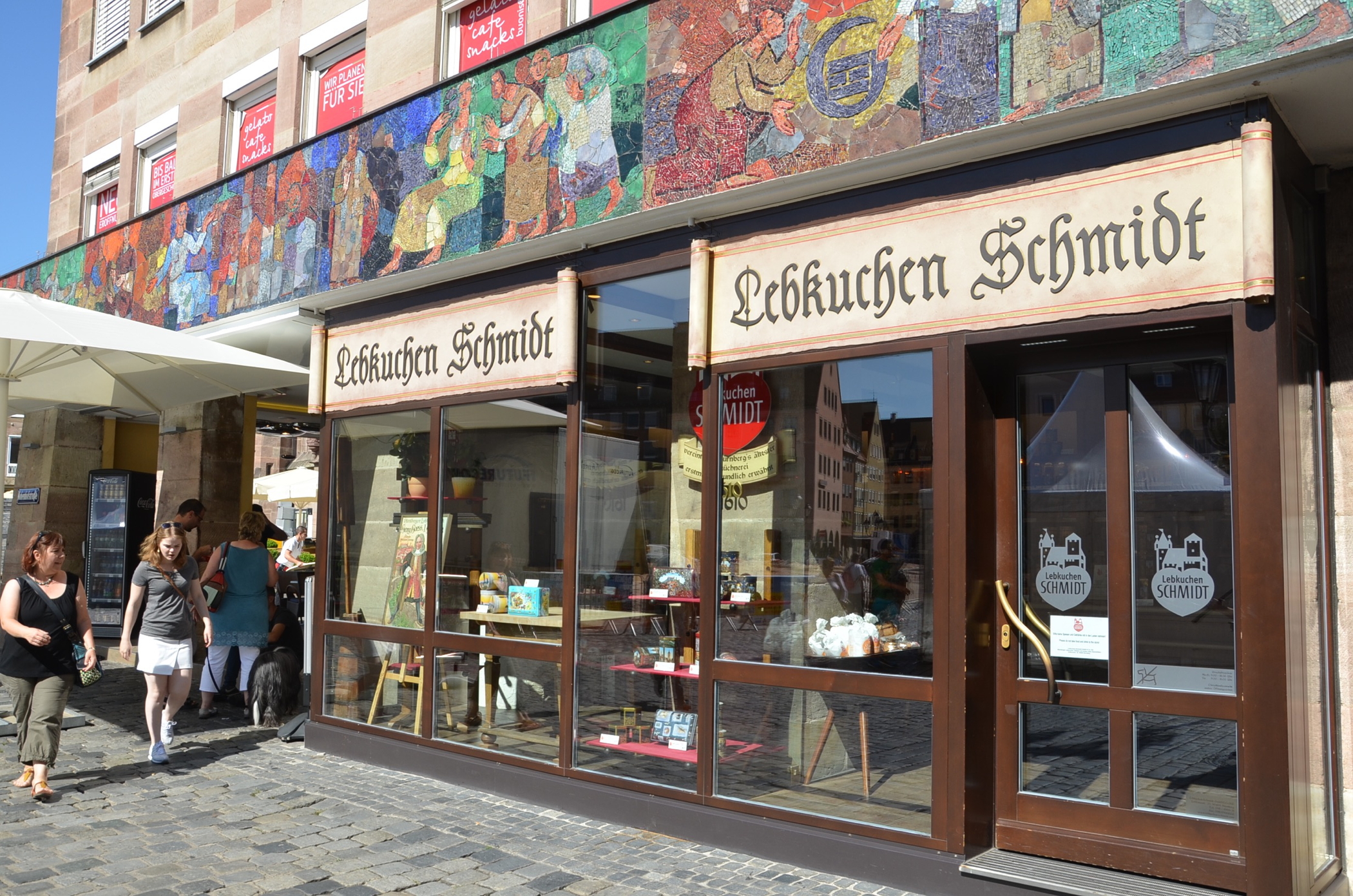 Nuremberg sausage, Schäufele and of course, gingerbread at Lebkuchen Schmidt
Another classic: Gingerbread. But where to get the best gingerbread in Nuremberg? That's hard to say. The best thing is to eat your way through Old Town Nuremberg. If possible rather in colder months then in August. Otherwise the gingerbread might just melt in your hand.
Where to find it? Lebkuchen Schmidt
The most famous shop might be Lebkuchen Schmidt. Here you can't do anything wrong. The hardest thing is to decide whether to take the one with dark chocolate, sugar on top or the ones left uncoated.
Lebkuchen Schmidt
Plobenhofstraße 6, 90403 Nuremberg
Franconian Whiskey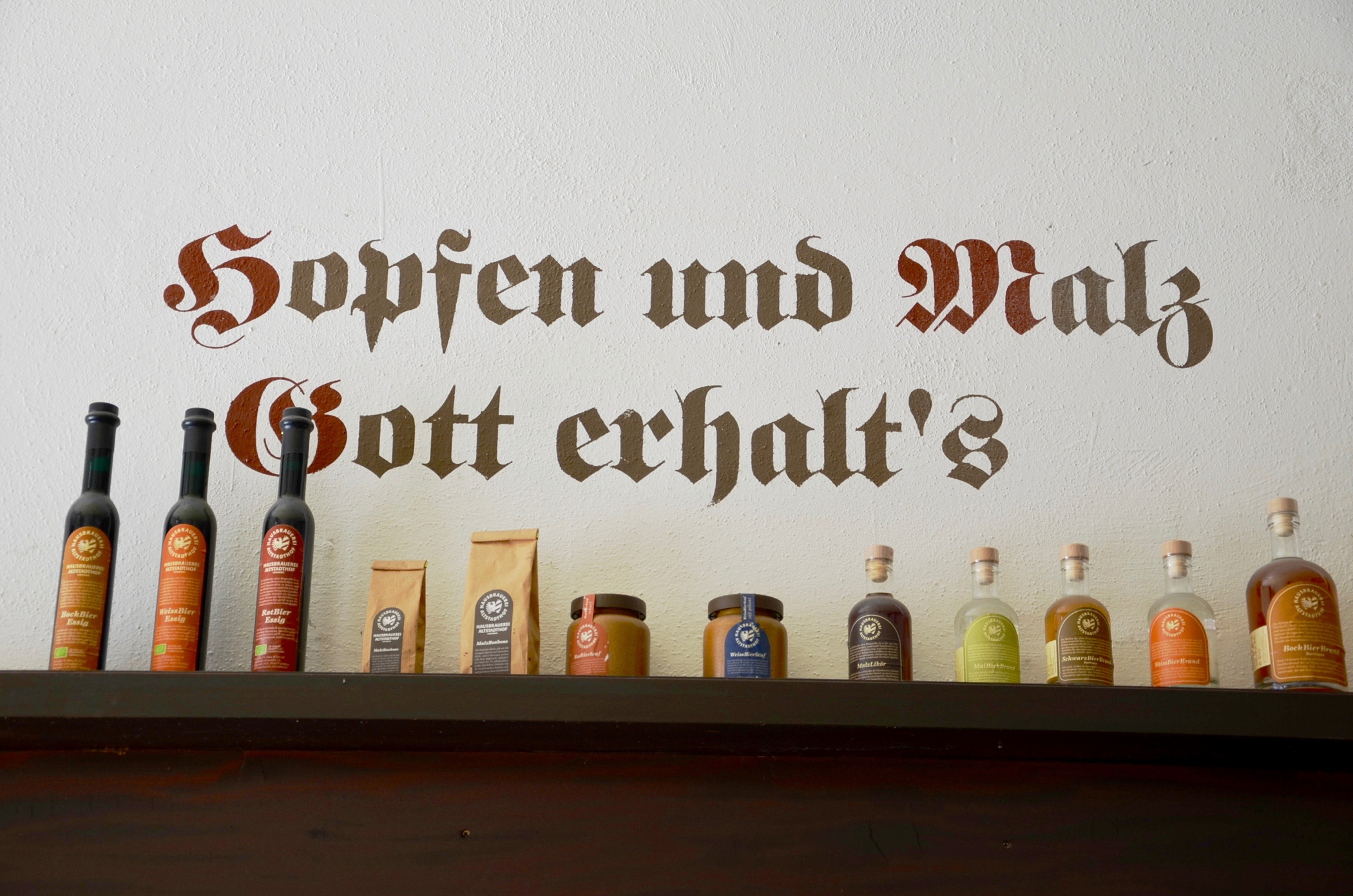 What to do after eating your Nurnberger Bratwurst: have a local Whiskey from Nuremberg
Whiskey from Nuremberg? Yes! I guess at some point it became boring for Franconians to brew beer so they came up with their own whiskey. Let's see when they will outdo the Scots in terms of distilling, as they already have some proper brewery genes.
Where to drink? Hausbrauerei Altstadthof
Here you can not only have a delicious meal, but even enjoy it with a beer from its own brewery. Or even better, join a tour through the breweries cellars. It is worth it.
Hausbrauerei Altstadthof
Bergstraße 19-21, 90403 Nuremberg
Franconian cuisine 2.0
The Zirbelstube restaurant servees Franconian cuisine with a difference
From rustic to modern. Because Franconian cuisine can as well be haute cuisine. At some restaurants they come up with Franconian classics in a modern interpretation served in a beautiful surrounding.
Where to enjoy? Zirbelstube
The Zirbelstube is located in a quiet area just outside the city and surprises with an incredibly pleasant atmosphere. In a venue that is cozy not only in summer time, with a lovely summer garden and some extremely sympathetic hosts. The dishes are delicious.
Restaurant & Hotel Zirbelstube
Friedrich-Overbeck-Straße 1, 90455 Nuremberg-Worzeldorf
Pig's shoulder meat – Schäufele
What I like even more than Nuremberg sausage: the co-called Schäufele
What is Schäufele? Schäufele is the pig's shoulder meat that gives the dish its name, "Schäufele". It needs to be roasted around three hours in the oven with bones and thick rind. In other words, its ready to be served when the meat almost melts in your mouth and the rind cracks. A Franconian dream of a meat dish.
Where to eat Schäufele in Nuremberg? Steichele
Many Nuremberg restaurants serve Schäufele. Probably the best I've eaten was at Steichele restaurant in December 2014. They have over 100 years of Franconian tradition and I immediately felt comfortable. In a place where they only speak Franconian dialect, where the dishes are to be eaten to the last dumpling and beer is still tasty, the Frankish world is still in order. And the Schäufele you get there? Simply Delicious!
Hotel-Restaurant Steichele
Knorrstraße 8, 90402 Nuremberg
Street food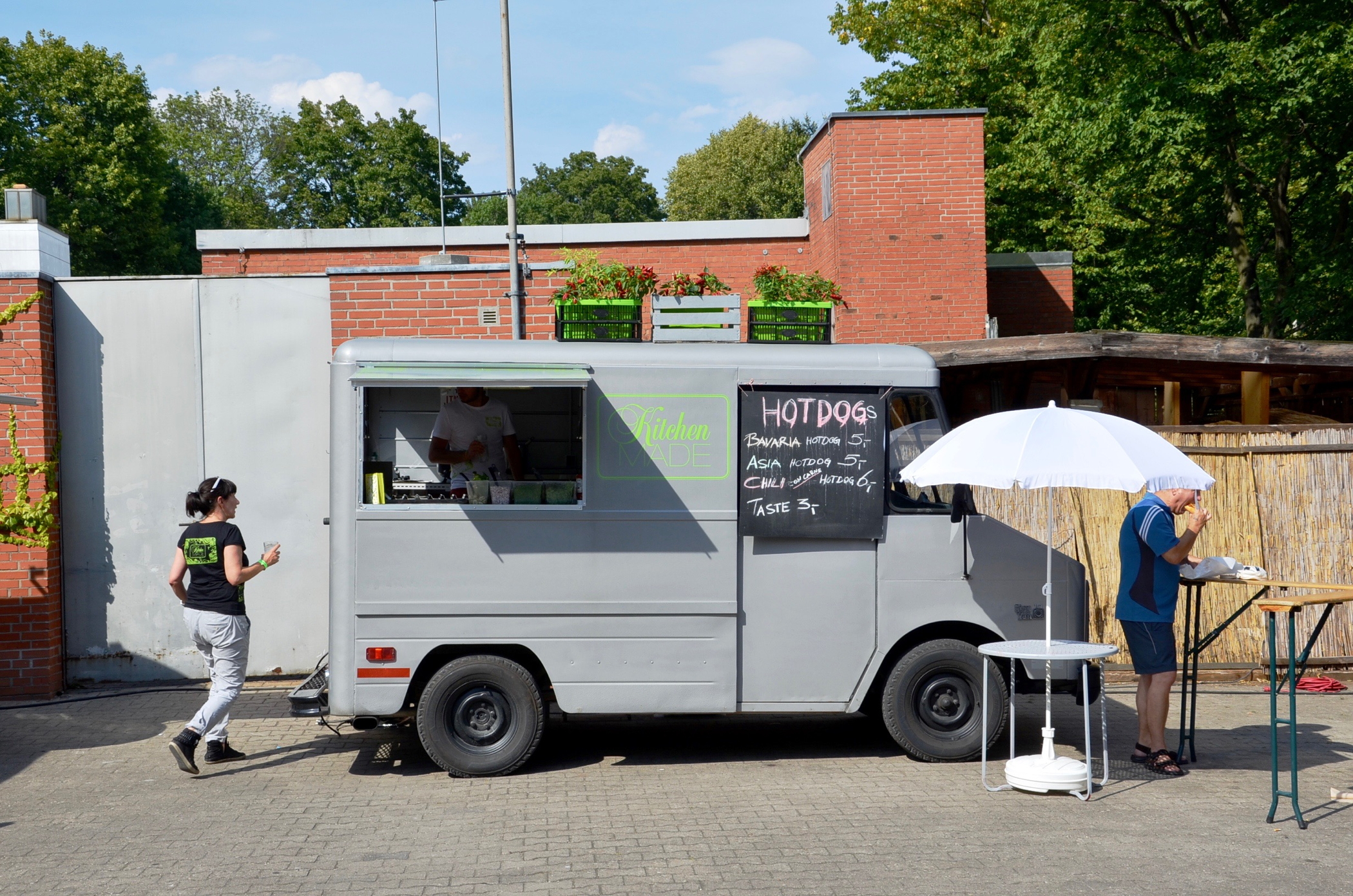 At Nürnberg Streetfood Markt they have Nuremberg sausage and Schäufele in a Streetfood version
Nowadays there are Street Food Markets nearly in every bigger city. Although it is actually not necessary in Nuremberg with all its cozy parlors to have a meal on the street, this trend has also found its way to Franconia. And guess what, it's totally worth a try.
Where to eat street food? Street Food Market Nuremberg
For the third time in PARKS Nuremberg: the Nuremberg street food market. In a relaxed atmosphere you can eat your way from stall to stall. I was deeply impressed by the so-called Schäufele Burger, a small and to-go interpretation of the classic. For dates have a look at the local (online) press, like Nuremberg-and-so.de
PARKS Nürnberg
Berliner Pl. 9, 90409 Nuremberg 
Burger
After Schäufele and Nuremberg Bratwurst sausage try a burger at Hempels Burger Nürnberg 
Talking about burgers: There are also hipster burger places in Nuremberg now. With good fries, meat and sauces.
Where? Hempels Burger
Alternative area of town, hip atmosphere, good burgers. Yummy!
Hempels Burger
Gostenhofer Hauptstraße 58, 90443 Nuremberg
Franconian Brotzeitplatte
The best time of the day is Brotzeit. So have a try! 
To eat a hearty Schäufele at noon is surely not for everyone. Maybe that is why the Franconoans came up with the Brotzeit, or rather the Brotzeitplatte. This is nothing else than a huge snack plate full of small treat like pickles, sausages, cheeses, Obatzda (a piquant form of cheese preparation) and much more. Enjoy it in a shady spot with a good beer. Life is beautiful.
Where to have it? Hexenhäusle
An historic beer garden at the foot of Nuremberg Castle. Great views included!
Das Hexenhäusle
Vestnertorgraben 4, 90408 Nuremberg
Franconian Beer
And after all these Schäufele and Nuremberg sausage? It's beer 'o clock.
Speaking of beer: Frankconia has the highest density of breweries in the world. No wonder that every beer you get here is delicious. And as a German saying goes, 7 beer replace a meal. Cheers on that guys!
Where? Everywhere. The best spot might be: Cafe Bar Wanderer | Wanderer Bieramt
Actually all restaurants in Nuremberg serve great beer. The place I liked the most was the one right before Albrecht Dürer house at Tiergärtnertor. Here you will find an illustrious mixture of young & hip and old & young at every evening. Buy your beer at a place called Bieramt and sit down on the cobblestones that are so pleasantly heated by the sun. Round here Nuremberg summer nights can be quite long …
Cafe Bar Wanderer | Wanderer Bieramt
Beim Tiergärtnertor 2-6, Inh. Christoph Zielke, 90403 Nuremberg
Mulled wine & burnt punch – or in German: Glühwein & Feuerzangenbowle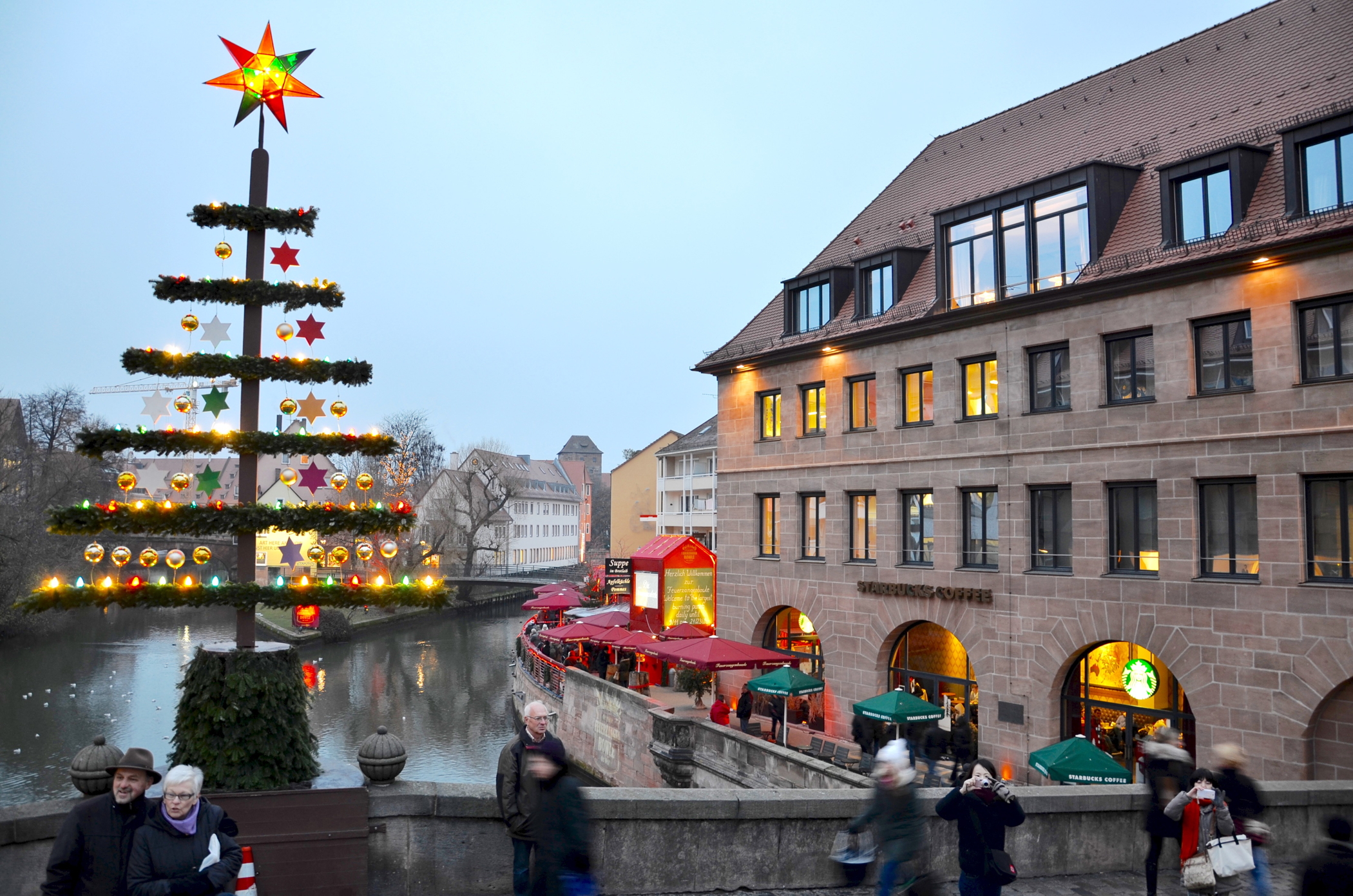 When you visit Nuremberg in winter, try the famous mulled wine
When winter comes, it is usually freezing cold in Nuremberg. Well that's why we have developed something long ago: the so-called Feuerzangenbowle. Named after the pliers on the vessel on which an in rum-soaked, burning sugarloaf is located. It warms from the inside and when the tank is close enough it also warms from the outside.
Check out whats happening at christmas time in Nuremberg in my post about Christkindlesmarkt & more: Lose yourself in Nuremberg at Christmas time.
Where to drink Glühwein? Feuerzangenbowlendorf at Fleischbrücke in Old Town ("Feuerzangenbowle Village")
The supposedly biggest but certainly tastiest Feuerzangenbowle can be found at the Fleischbrücke Bridge close to the Christkindlesmarket.
Feuerzangenbowlendorf
An der Fleischbrücke, 90403 Nuremberg
Planning a trip to Nuremberg sausage heaven? Check out my favorite Nürnberg travel guides:
A very good round-up to the region of Bavaria is the Lonely Planet Munich, Bavaria and the Black Forest. If you are about to spend more time in Deutschland, the Lonely Planet Germany and the Fodor's Germany is a good deal.
Where to stay in Nuremberg:
When it comes to best hotels in Nuremberg, I can absolutely recommend the newly renovated Sorat Hotel Saxx Nürnberg, that has the perfect location at Hauptmarkt, where in winter time Christkindlesmarkt takes place. Check the best rates on Booking.com.
More Articles on Nuremberg:
• Christkindlesmarkt & more: Lose yourself in Nuremberg at Christmas time
Anekdotique was a guest of Nuremberg Convention and Tourist Office. Thank you! All opinions, exaggerations and bad jokes are my own.