In seach for the best Italian ice cream: Gelateria Pepino in Turin
Italian ice cream like chocolate, vanilla, stracciatella – there is no trip to Italy without tons of this delicious treat. The famous Gelateria Pepino in Turin certainly offers the best gelato of the city, perhaps even the best of Italy. I put that to the test: with a 5-course Italian ice cream tasting.
Gelateria what? Pepino is the name of this Italian ice cream shop on Piazza Carignano in Turin in the middle of the beautiful old town and it is named after the founder Domenico Pepino.
I must admit that the term ice cream parlour does not nearly do justice to the venue. Ok, there is a simple output window on the side of the place where a smart young man fills scoops and cups devotedly with Italian ice cream of all colours day in, day out and probably even night in and night out. And yet the Pepino is much more than just an ordinary ice cream parlour. But what exactly does that mean?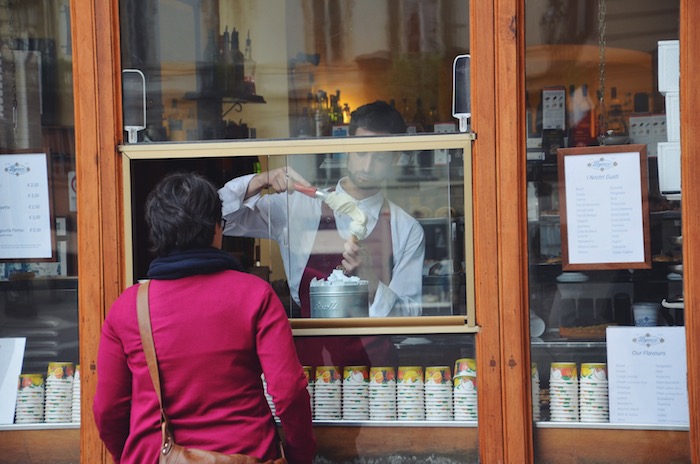 Ice-cream to go at Gelateria Pepino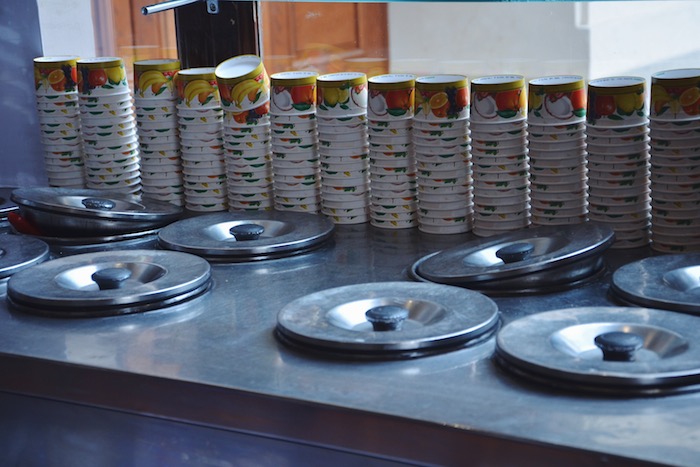 Gelateria Pepino is famous in Turin and has a long reputation as ice cream parlour
First of all, the Gelateria Pepino was established in 1929. Chances are good that the institution is older than anyone who reads this. And if not, hats off, you seem to have done a pretty good job in getting old.
And listen up, because it owns the honorable title of the oldest ice cream shop in Europe.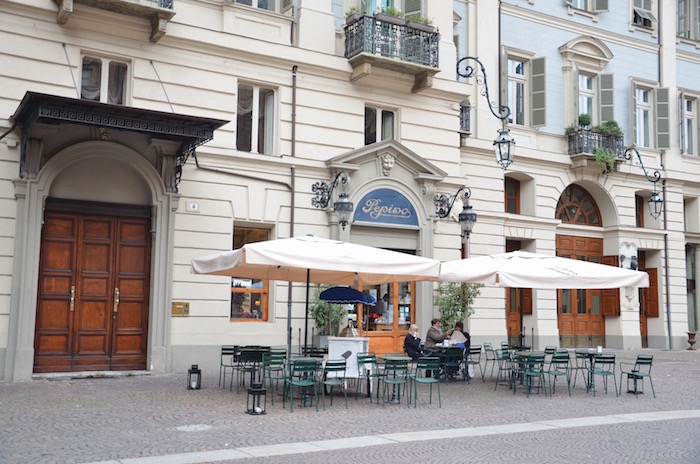 The Gelateria Pepino from outside

Furthermore in 1939, while a few busybodies were busy instigating a world war, it was here that the famous Italian ice cream on a stick was invented. Or ice-lolly for my British readers or popsicle for all Americans. No, I don't mean the vulgar Israeli 60s movie, but ice cream that was put on a wooden handle in order to make it easier to hold in the hand. That might sound pretty simple, but well, someone had to come up with this idea first.
The founder of the Gelateria Pepino, a man called Domenico Pepino, moved to the north Italian city of Turin from Naples in 1884, where he finally realized his big dream of an own Italian ice cream shop at the Piazza Carignano, exactly where it is still located today.
That's one of these wonderful facts that I love about Italians: their penchant to leave things as they are. That is the way it is and that is exactly the way it remains. Basta!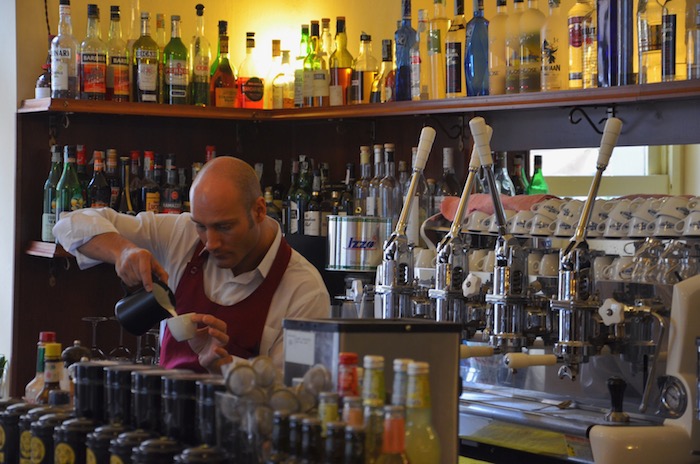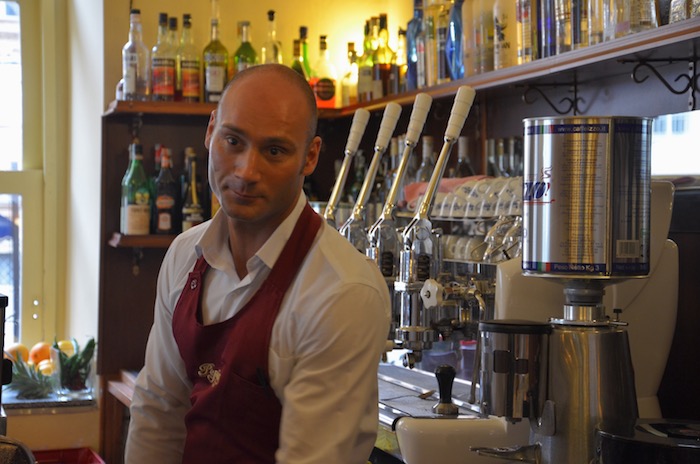 Of course, the talented bartenders of Gelateria Pepino also know how to make a proper Italian coffee
But how did Pepino finally come up with the bright idea with the wooden stick, you ask? Well, at that time he delivered his Italian ice cream creations only to the realms of the city and only to special occasions – almost exclusively to the royal house of Savoy.
But of course he wanted to offer it to anyone and even better to take away. So what he did was an easy trick: to put it on a tiny wooden stick. It's as simple as that.
The rest is culinary history: the so-called "Penguin Ice", a vanilla ice cream surrounded with dark brown chocolate so that it almost resembles a penguin. Sweet isn't it? A sweet treat that Italian ice cream is till today and another thing that hasn't changed in Bella Italia for centuries.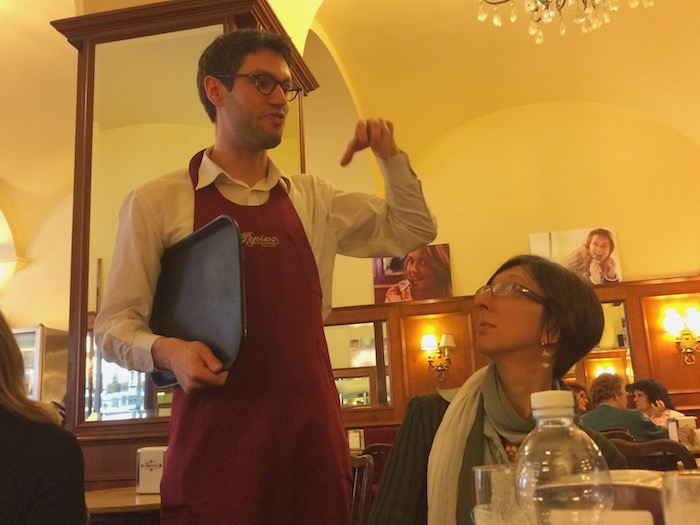 Waiter Michele Cerruti of Gelateria Pepino explaining the differences between the ice-cream variations
When I was in Turin myself, I was invited to an Italian ice cream tasting at the famous Gelateria Pepino. You can't believe that such thing actually exists? I would have never thought of that neither. And this ice cream tasting had 5 courses. Eat this! The big difference to a wine tasting is that you don't have to spit it all out again, instead you are actually allowed to consume the product. Well spitting this delicious gelato into a bucket afterwards would be pretty stupid in that case…
So when the tasting started one course after the other was served together with lots of expertise of our highly ambitious waiter Michele Cerruti: hazelnut ice cream, chocolate ice cream, vanilla ice cream, mint stracciatella, a little sorbet, an ice ball of Gianduja – which a special treat that only exists in the city of Turin – and finally the famous Penguin popsicles. I can only remember the rest very vague, as I was already way too tired to learn more about Italian ice cream, not to mention to eat more of it.
In the end, my taste buds had went wild for 30 minutes. And I had the firm conviction that I had just tasted some of the best Italian ice cream variations in the world. Chapeau! Or as the common Italian would say: Buonissimo!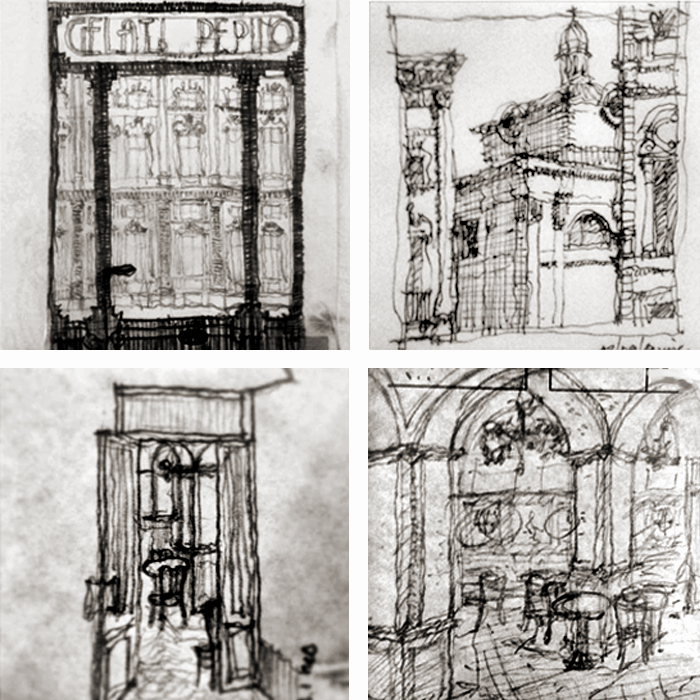 Note: The drawings shown here are made by our talented waiter of Gelateria Pepino, Michele Cerruti (you can see him in the photos). At this point, many thanks Michele for providing them! You should definitely think about a career as an artist.
More Articles on Turin Travel:
• 15 reasons to fall in love with Turin
• The picturesque doors of Turin
Anekdotique was a guest of Turismo Torino e Provincia & Consorzio Turistico "Incoming Experience". Mille Grazie! All opinions, exaggerations and bad jokes are my own.