Peking Guide: 10 reasons why Beijing is worth a trip
For many Beijing, aka Peking, is a juggernaut, a vast metropolis in which it is easy to get lost. And that is not just because of the dense blanket of smog, under which the city disappears at day, night and whatever the season, if you trust the international television. Here are 10 reasons why Beijing is worth a trip.
Nevertheless, China's capital Beijing, or as formerly spelled Peking, has won my heart with all its rough edges – or perhaps because of them. I guess that also applies for my sister who lives there for some years now, and who was reason enough for me to travel to Peking four times in the last years.
Trips that brought much for than just seeing all the important sights like the Forbidden City, the Summer Palace or Temple of Heaven, which are all definitely worth a visit.
Today, I want to give you 10 unusual tips for Peking, ten great things to do, that you maybe won't find easily somewhere else. Here we go!
1. Donkey Burger
That's right folks! In China they eat dogs and donkey meat! Namely as a burger or rather a kind of dumpling. This not only looks very photogenic, but still tastes really good. It best goes with a Chinese version of Fanta. This might also taste different as you might be used to, but hey, I guess you are not in Peking or somewhere else in China for well-known things, are you?

Peking on your tongue: Burger with donkey meat. Yes! Donkey! Meat!
2. Urinal with a view
Yes! Pee with a view in a lounge bar called "Atmosphere", which is on the 80th floor of the new World Trade Center (China World Summit Wing). Or rather on the men's toilets. Sorry, I have not tried the other ones … The view of the skyscrapers of SOHO and as far as Fu Li Cheng and on nice days to the horizon is very worth it, although drinks are unfortunately expensive. So I guess the best idea is to already arrive with a full bladder.
HARD FACTS:
Atmosphere, 80/F
China World Summit Wing
1 Jianguomenwai Dajie
Chaoyang District
朝阳区 建国门外大街1号北京国贸大酒店80层 Beijing

Watch the Peking traffic while doing your business
3. Learn to cook Chinese
Cooking lessons are indeed extremely hot at the moment. Of course you could just take a Thai, Indian, Chinese oder whatever cooking course in your hip home town, but the real experience you only get when visiting a particular country and learn directly from locals.
Last year, I participated in a Sichuan cooking class in a venue called the Hutong that lies, tadaaa, in the Hutongs, the original residential areas of Peking.
Want to know what I experienced there except extremely spicy food from the Sichuan region and very sharp Chef knives that are hard to handle? Check out this article: 1000 chilies, 6 women and me: A Sichuan Cooking Class in Beijing.

Chinese Cooking Classes: A must-do when in Peking!

Could be a bit spicy…
4. Taxi driving and getting lost
One of the best experiences I've ever had in China (again and again) is taking a cab. There is nothing more amusing, nothing more confusing, nothing more encouraging and nothing more discouraging at the same time as using a taxi in Beijing, where far fewer people speak English, as for example in Shanghai and of course even more so in the former British colony of Hong Kong. You will realize quite quickly that you know nothing at all. Neither whether the taxi driver has understood what you were saying, nor where he makes you go, nor where you are at at all.
How the story of my first taxi drive ended? Read on here: Traffic jams and language barriers – a taxi ride experience in Beijing.
And ehm… just in case, here are my 20 ultimate tips for taking a taxi in Beijing and the rest of China.

Peking traffic jams come and go within a minute
5. Karaoke China Style
Actually, South Korea is the undisputed karaoke nation of the entire world. Nevertheless, it makes a hell of a lot of fun in China too. Especially because it's not like in European karaoke bars, where you make a fool of yourself in front of everyone in the bar. In Peking and the rest of China it's much more intimate, because what they offer are enclosed rooms for yourself and your friends.
Expect a huge couch area, a huge TV, a huge selection of songs in English (and Chinese tearjerkers that remind of stupidly romantic 90's bad Pop and Rock) and a huge selection of alcoholic beverages. Finally, even among friends you have to acquire liquid courage first before singing Bon Jovi and Haddaway with great enthusiasm.
6. Go eat Japanese
Yes, I know we are talking about China, not Japan. But what you can do very well here, is to go out to eat Japanese. From Teppanyaki (a style of Japanese cuisine that uses an iron griddle to cook food right in front of you) to Sushi (a Japanese food consisting of cooked vinegared rice combined with other ingredients, usually… oh you know Sushi already? Cool! ) Believe me, everything Japanese is much cheaper in China, but just as fresh and mostly prepared by Japanese cooks. A good Japanese for all-you-can-eat Teppanyaki (!), is Tairyo across from Worker's Stadium, Chaoyang.
HARD FACTS:
Tairyo
3/F, No. 6 Chinaview Building
East Gongti Road (East Gate)
Chaoyang District
Beijing, China (Beijing Workers' Sports Complex)

Japanese food like teppanyaki or sushi are much cheaper in Peking and the rest of China
7. Hot springs for cold days
Outside of Beijing (Peking) there are some hot springs, which are worth a visit when the winter arrives in the capital of the People's Republic of China or in case you just want to get out of the bustling city. The baths are mostly traditional Chinese and full of locals who suspiciously eyeing every movement of every tourist. Not out of malice, but simply because they are not used to that long noses get lost here (Yes, that how they call us!) I would recommended this one, for example, the Jiuhua Resort (九华山庄) with the wonderful nickname Xiaotangshan ('little hot soup mountain'), located at the exact spot where the Qianlong Emperor and the Empress Dowager Cixi once bathed. And now it's your move.
HARD FACTS:
Take subway Line 5 to its northern tip at Tiantongyuan Bei and then it's a 20-30RMB ride in a taxi. Or hire a driver in Beijing for a day and explore the whole area.
English address:
Jiuhua Resort (九华山庄)
Xiaotangshan
Changping district
Chinese address:
昌平区小汤山枯柳树环岛东400米
Open: 8.30am-1.30am daily
Admission: 188RMB (3 hrs at weekend; no limit on weekdays)
8. Hidden treasures at the Antique Flea Market Panjiayuan
High quality Chinese antiques can usually be found in the most expensive antique shops of Hamburg, Paris or New York. Or just in China. And there, of course, much more affordable. One good place to go for an antique hunt is the giant Panjiayuan Antique Market, south of Fu Li Cheng and the World Trade Center. At several thousand stalls all kinds of Chinese handicrafts can be found: Products made ​​of jade, stone statues, beads, porcelain vases and jewelry. And many household items, ancient Chinese cabinets, pretty calligraphy, fancy revolution poster or film products of all sorts from Bruce Lee to Lord of the Rings.

When on a flea market in Peking, better prepare some words in mandarin
HINT:
Not everything is truly antique, just because it look like this. It's not all from the Ming Dynasty, what looks like a beautiful vase. So better take a closer look.
ONE MORE TIP:
If you want to bargain here seriously, you should better know a few numbers in Mandarin. (What I do not.) Or bring pen and paper. (Which I, unfortunately, did not.)
HARD FACTS:
Antique Flea Market Panjiayuan
South East Third Ring Road
潘家园 West of Panjiayuan Qiao
Chaoyang District 朝阳区 潘家园桥西边 Beijing
Opening Hours: Mon – Fri: 8:30 a.m. – 6 p.m.; Sat: 4:30 a.m. – 6 p.m.; Sun: 6:30 a.m. – 6 p.m.

The Antique Flea Market Panjiayuan in Chaoyang District, Peking, China
9. Wangfujing: Scorpions, spiders, turtles – and all on a skewer
Beijing's major shopping area Wangfujing is actually not particularly noteworthy if all the huge malls were not close to the Donganmen Food Street, a typical Chinese market, which is distributed across several lanes and comes up with everything the Chinese cuisine has to offer: from jiaozi (stuffed dumplings) to grilled octopus and fried scorpion. Or how about crunchy tarantula on a stick? Those who have always claimed not to shy away from such specialties, should definitely visit this place. You would not believe, how fast apparent culinary preferences can change.
HARD FACTS:
How to get there? Just follow your nose. Literally.
Ok seriously, there are various entries to the market. The easiest would be from the metro station Wangfujing and then on the left hand side through the gate.

Wangfujing, Peking

Peking cuisine: Right, scorpions on a skewer
10. CCTV Tower – Twisted World
It feels just a little funny now that I write these lines, to recommend a state-of-the-art building. And yet I get the CCTV Tower, the headquarters of China Central Television, not out of my head since I first stood in front of it, amazed like a child that for the first time ever looks at a high-speed train with its own eyes.
The tower is a silver-glittering, almost dalí-esk twisted building, so large that it can be seen from far away. So mirrored, that you could make yourself up. So unique that, well so far, I guess there is not a single copy of this constructive form. I for one am happy every time I sit in a taxi and catch sight of the building somewhere on the horizon.
HARD FACTS:
CCTV Headquarters
No.11
Middle of West 3RD Ring Road
Haidian District
Beijing, China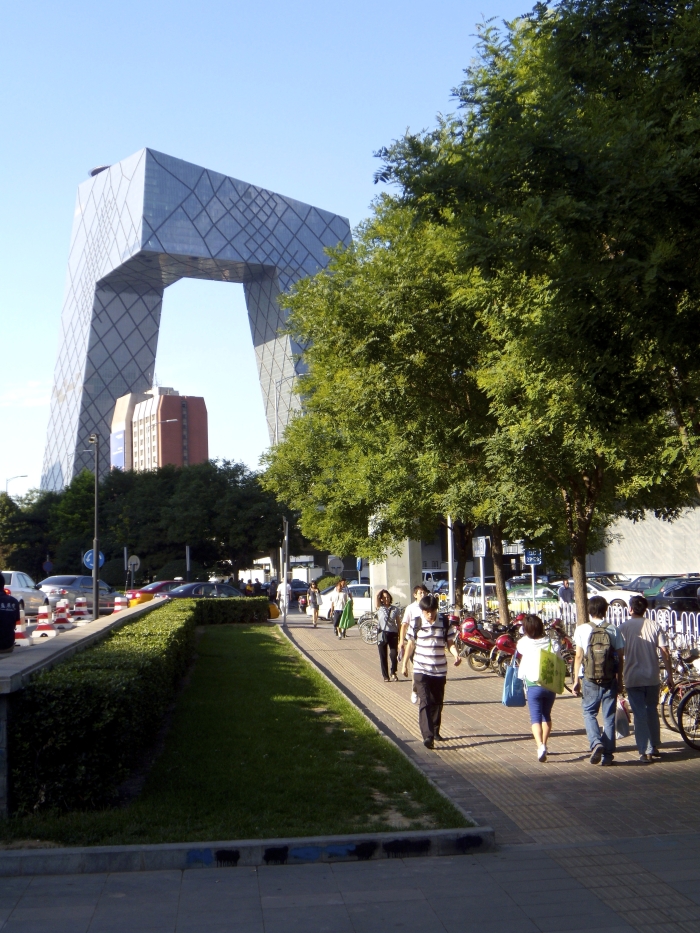 Have you been to the Beijing aka Peking? What anekdotiques and tips do have from there? Leave a comment!
Enjoyed this article? Follow me on Facebook and get notified about new posts!