10 Must Eat Foods in Thailand
It's hardly surprising that a cook's heart blossoms when it comes to Thai cuisine. Not only because it's one of the most renowned in the world, but nearly infinite. When in Thailand, chances are good that you have five dishes a day without eating even a single one twice in weeks. Here are my 10 most favorite Must Eat Foods in Thailand.
First of all, Thai food is well known for the huge diversity of ingredients, for incredible spiciness and even lot's of medicinal properties due to herbs and spices, of which some Thais are more than proud.
Although some westerners might think that Thai foods are mostly cooked with the indispensable ingredient of a strong fish sauce (well, some might be), most foods in Thailand are cooked or fried tenderly with a lot of ingredients that come together in a symphony of five flavors: spicy, salty, sour, sweet and bitter.
Can you guess the ingredients that Thais mostly use when cooking? It's garlic. And chili. And more garlic. And more chili. And even more … ok I guess you got it.
I'm really happy about the fact, that I really like both. I like it spicy and garlicky. If that's not the case for you, feel free to tell the waiter that you want your dish with less garlic or less chili. In most cases, this will however be of little help. The taste buds of Thais just work different, like the ones of many other Asiens. But have a try!

Foods in Thailand: Like chilis? Great, you will love many thai dishes

Foods in Thailand: Yet another ingredient is garlic
When travelling through Thailand one should definitely not miss all the delicious treats that Thai people have to offer. Not matter if in a restaurant, a food mall or simply at a street stall.
And the most important thing is: just do it. Don't let yourself be swayed by bad talking about street food. It's just not true. In the end, just listen to your inner voice and you'll know where and what to eat to make yourself comfortable.
The following list is build up on 10 authentic Thai dishes that should not be missed. Please bear in mind, that there are dozens, no hundreds of others. This list is just an appetizer to the huge diversity of Thai cuisine. Bon appétit!
Fried chicken with garlic and pepper on rice



Foods in Thailand: Fried this, fried that, Thais love to fry stuff to eat
Well this sounds pretty easy, right? But try to make that yourself back home as good as the fried chicken you get nearly everywhere in Thailand. And you will be surprised how well the mixture with garlic and pepper goes. Ok seriously, you will see that garlic goes pretty well with so many Thai dishes! Or in other words: Thailand is a garlic lovers' dream.
Fried morning glory



This is one of my favorites foods in Thailand 
This is the one I fell in love with on my last trip to Thailand. The name alone is music to my ears. Seriously, I could eat Morning Glory all day long. Well I nearly did.
It's a vegetarian dish called "pad pak bung fai daeng". Some might call it water spinach. The interesting thing is the last part "fai daeng", which refers to the red flame that comes up when you throw the vegetables in. Now go to Thailand and show off with this knowledge!
Steamed squid with lemon dressing



I really miss this Thai dish: Squid with lemon…
I never ever tasted squid that was so delicious as the one I ate in Koh Lanta and the Krabi region. Practically, it is quite simple: Steamed squid, lemon juice, chili and some coriander on top. But in your mouth it's the most piquant combination of sour, salty and spicy that I got to know. Just hope that the fishermen were successful in the early morning and that the place you are sitting in didn't run out of squid.
Pad See Ew



Foods in Thailand: Pad See Ew is a very common dish in Thailand
Something truly Asian and very popular: Pad See Ew is a standard lunch fare among Thais and consists of broad, flat, soft and chewy rice noodles, known as "river noodles", Chinese broccoli, soy sauce and meat. It can be made either with chicken, pork or beef. The noodles can, of course, be made hot at the table with chili garlic sauce. Have a try!
Green or red Curry Chicken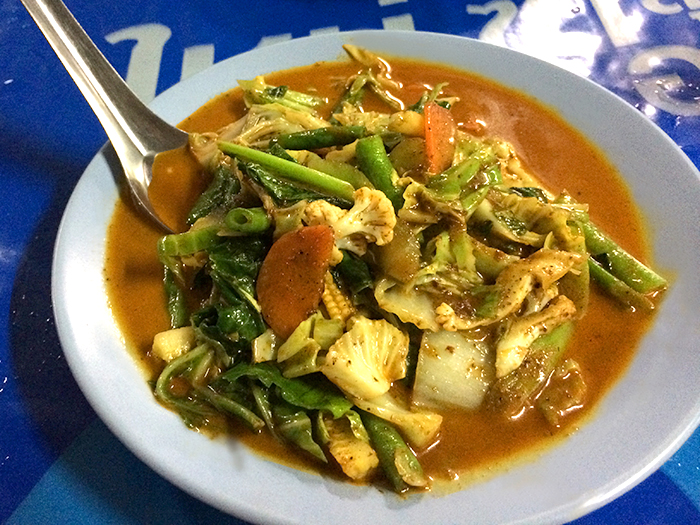 Foods in Thailand: You can get curries nearly everywhere as well
Well, this is the dish you order, when you don't understand what all the other meals actually are all about. You can never do wrong with curry. And most curries I ever had in Thailand have been finger licking good.
There are two main options, which are red and green curry. The green one is typically a bit sweeter than the often very spicy red curry.

Foods in Thailand: Have you seen that vegetables before?
To be more precise: While green curry is typically made with eggplants or pea eggplants (Yeah, tiny ones! So cute!), coconut milk and lime leaves which are than combined with lot's of green curry paste, red curry is typically made with lemon grass, bamboo shoots and Thai eggplant. And of course, both curries are made with what? With fish sauce of course.
Fried Eggplant



Foods in Thailand: Eggplant made with garlic… and garlic
Yes! You can have just eggplants! Where in other countries some would rather wrinkle their nose, the Thai version is delicious. Seriously, who needs meat anyway, if you can have such stunningly delicious vegetables? Fried Eggplant was one of my biggest surprises on my last culinary trip through Thailand.
Massaman Curry Beef

Foods in Thailand: Massaman Curry Beef has muslim roots
A traditional Thai Massaman Beef Curry (Kaeng Masaman) is very flavorful. If you're really hungry before lunch or dinner and want to be really satisfied afterwards, try this one.
Massaman curry has many accompaniments. Due to its Muslim roots and therefore Islamic dietary laws, this curry is most commonly made with beef, but it can also be made with tofu, chicken, or for non-Muslims, also with pork.
Everything else pretty much varies from region to region and from cook to cook. Some places serve it with fried salted egg, beef jerky or crispy fried anchovies. Not matter how yours was made, it will be a solid meal for sure.
Khao soi or "Chiang Mai Noodles"



Foods in Thailand: Khao Soi or also called Chiang Mai noodles
Khao soi is a Burmese-influenced dish that's mostly served in northern Thailand and northern Laos. Some travelers to Thailand may also now it under the name Chiang Mai Noodles, as it is popular as a street dish in this region of the northern Thai city.
It's a soup-like dish made with deep-fried and thereby crispy egg noodles mixed with boiled egg noodles. Then there are a handful of other ingredients like shallots, pickled cabbage, lime and (who would have thought) some ground chilies, that are fried in oil. Last but not least, there is meat in a curry-like coconut milk sauce.
Pad Thai



Foods in Thailand: Pad Thai is a classic dish
This is one of the most well known Thai dishes in restaurants around the world and at roadside stands in the country of smiles: Pad thai, literally "Thai style frying", is a noodle dish that's manly made from stir-fried rice noodles and most often prepared with eggs, peanuts, sprouts, shallots and a choice of meat. Delicious and kind of a sure shot when you have to decide for a dish.
Fried Chicken



Foods in Thailand: This might looks simple, but it tastes just delicous
Imagine yourself as you arrive in Bangkok late in the evening after an exhausting long-haul flight. First you have to wait for your luggage, then try to get a taxi driver who doesn't want to rip you off, drive the bloody long way into the city center, check in into your hotel, get a shower… and then all of sudden, realize that you're starving.
So what do you do? I tell you what! Go to any little backstreet, find a tiny street stall, sit down on the plastic chairs that are way to small for your lazy tourist ass and order fried chicken just like the one you see above. Or order any other simple food that a simple man working on a street all day and night is all-time ready to serve you.
Seriously, Bangkok has so much to discover when it comes to culinary street food. Just let your inner voice tell you, if you're ready for it or not. And if you are, just order, pay the few bucks and get happy in the midst of the hustle and bustle of the city.
No matter what you decide for, don't forget to order steamed rice or sticky rice (more common in North Thailand) with your dishes, as it often not really belongs to an order.

Foods in Thailand: You can get the best fruit and vegetables at every market
And keep in mind…

… that these are just 10 of the hundreds of food in Thailand the cuisine has to offer. There are much much more, such as fresh or fried spring rolls, Som Tam (spicy papaya salad), Tom Kha Gai (chicken in coconut milk soup) or not to forget my favorite Thai dessert of all: Mango with Sticky Rice! Yummy! And now go out on a food hunt!
If you happen to be in and around Chiang Mai, here are some venues and eats that your taste buds better don't miss: Where to eat in Chiang Mai, Thailand!
What are your favorite foods in Thailand? Did I miss something? Leave a comment!
Enjoyed this article? Follow me on Facebook and get notified about new posts!