Where to stay in Hong Kong: Budget to Boutique
Hong Kong is far from cheap when it comes to accommodation. Nevertheless you can also find great budget places. Rather fancy a design hotel where you can spend some quality time? No problem. The city offers great options as well. Where to stay in Hong Kong? Here is our guide from Kowloon to Hong Kong Island, from budget to bling.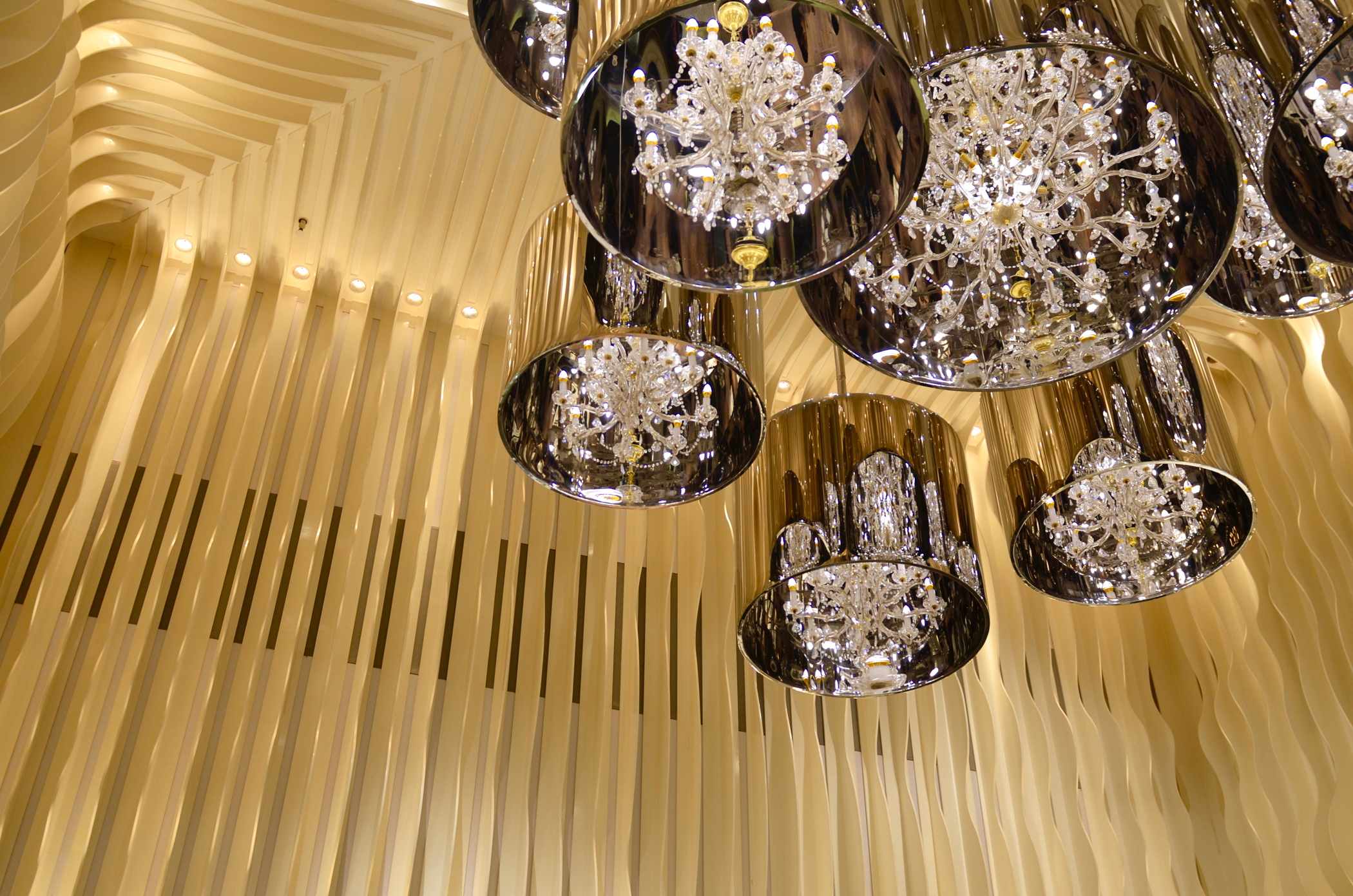 Luxury Hotels in Hong Kong:
As Hong Kong is the financial capital at the South China Sea, there are tons of options of where to stay in Hong Kong for luxury travelers. The best options are far away from being classic or conservative, but stylish.
The Mira Hong Kong
Rumor has it that Edward Snowden stayed in The Mira Hong Kong after he had leaked classified documents of the NSA – who could blame him for choosing to stay in probably the most stylish place to unwind and load your batteries in the heart of Hong Kong.

The Mira is where to stay in Hong Kong if you like contemporary design
The Mira Hong Kong is an upscale design hotel located in the heart of Tsim Sha Tsui, Hong Kong's shopping and entertainment district. With 492 rooms and suites, 6 restaurants and bars and a spa, The Mira is one of the bigger hotels in the city. While the outer black facade is rather unremarkable from Nathan Road, the lobby's futuristic décor has no peer. Imagine a marble-floored lobby, impressive sculptures and futuristic, curved white fins on the ceiling.
Most of the contemporary rooms overlook Kowloon Park, Tsim Sha Tsuis green lung, and are equipped with Arne Jacobsen's modernist Egg chair, translucent bathroom walls, Bose iPod docks and even a complimentary Wi-Fi device for use on-the-go with free local and international calls. For a innovative dining experience, check out WHISK, the in-house restaurant.
Want to stay at The Mira Hong Kong? Check it at Agoda.com!
The Mira Hong Kong, 118-130 Nathan Rd, Tsim Sha Tsui, Hongkong
themirahotel.com

EAST Hong Kong
The EAST Hong Kong is a chic an modern luxury hotel in Tai Koo on Hong Kong Island. Designed by award-winning CL3 Architects it is not only the perfect place to stay for business travelers but for anyone with a great sense of style.

The East Hotel is where to stay in Hong Kong for business travelers 
It surprises with a 24-hour fitness centre called Beast (i.e. Body by East) and a heated outdoor pool. Spend your time lingering over dinner at stylish Feast (yes, the hotel seems to be keen on rhymes) or East's café, or enjoy a cocktail at Sugar, the hotel's own and quite popular rooftop bar with exceptional harbour views.
The 345 sleek guest rooms and spacious suites are Asian-inspired and come with pleasant gimmicks like Apple TV and espresso machines but above all they convince with plenty of natural light and, if you not choose urban-view, extraordinary harbour or skyline views (and to the Kai Tak cruise terminal) due to huge glass facades.
And just in case you might have this question in mind: The hotel has a great connection to the Central and Causeway Bay, as it is adjacent to the Tai Koo transit station and just eight direct MTR stops away from the city centre.
Want to stay at The East Hong Kong? Check it at Agoda.com!
29 Taikoo Shing Road, Taikoo Shing, Hong Kong.
east-hongkong.com
Boutique hotels in Hong Kong
In Hong Kong, there is a thin line between luxury and boutique. Sometimes a 4 star boutique hotel can be more expensive than a 5 star one. Here are some of our favorites.
J Plus by YOO Hong Kong
Looking for a hotel in buzzing Causeway Bay? Then J Plus by YOO is just the right choice. Said to be Hong Kong's first boutique hotel, J Plus is designed by none other than celebrated designer Philippe Starck – while the lobby's interior might let you think more of Salvador Dali and Tim Burton.

J Plus by YOO is where to stay in Hong Kong if you like great design 
The stylish selection of smart serviced apartments (32 airy studios & 24 luxury suites) offer a chic home-away-from-home. They feature a fully equipped kitchenette and come with bold colors and contrasting contemporary and traditional styles. Think Chinese motifs and mostly white European furnishings.
J Plus offers tea, coffee, juices and soft drinks for free at 24 hours a day. Also, from 5-8 pm even complimentary wine is offered, so you can start the evening the right way. Guests can also enjoy free use of a handy smartphone device (including local calls and international calls.)
Want to stay at J Plus by YOO Hong Kong? Check it at Agoda.com!
1-5 Irving street, Causeway Bay, Hong Kong
jplushongkong.com
OZO Wesley Hong Kong
Want to stay in Wan Chai, one the most hip neighborhoods and home to one the famous bar areas in town? Then OZO Wesley Hong Kong might be the right place. Upon entering this home to "on-the-go global nomads" you will be surprised by a bright and spacious lobby with the most modern, funky design, red furniture and waved wooden lines on the ceiling, that gives it a natural feel.

Where to stay in Hong Kong: The OZO Wesley is centrally located in Wan Chai
Perfectly located on Hennessy Road in Wan Chai, a tram station and several bus stations are right outside OZO Wesley, while the Admirality and Wan Chai MTR stations are each only a ten-minute walk away.
Surprisingly, the 251 rooms are quite spacious for Hong Kong hotels at this price range. One thing you will immediately recognize when entering, is the grey and blue painting of Hong Kong's skyline that covers the entire wall behind the king-size bed. Talking of the bed… the absolut highlight of the OZO Wesley is their idea to guarantee the best possible night's sleep for their guests. To do so, they offer double-glazed windows to keep out the noise, especially thick curtains to block out the morning sun, and, wait for it, a sleep timer on the TV that features sheep jumping across the screen. Just in case you still can't find sleep, there is also a 24-hour cafeteria in the lobby and a spacious fitness centre to burn off energy.
Want to stay at The OZO Wesley Hong Kong? Check it at Agoda.com!
22 Hennessy Road, Wan Chai, Hong Kong
ozohotels.com/wesley-hongkong
The Luxe Manor
The Luxe Manor surprises in many ways. While located in a side street of Nathan Road in bustling Tsim Sha Tsui this stylishly surrealism-inspired luxury hotel looks quite normal from the outside.

The Luxe Manor is where to stay in Hong Kong for design lovers
However inside, it immediately feels like stepping into another, much weirder world. The interior convinces with a quirky, playfully surreal charm that reminds of the works of Salvador Dali and other artists of dadaism. From sloping chairs to pillows with faces on them, the whole design is anything but normal, giving the promise that there is "a delight behind every door". The Luxe Manor also has a wonderfully decorated Dada bar and lounge, that is popular with locals and expats alike.
Want to stay at The Luxe Manor? Check it at Agoda.com!
39 Kimberley Road, Tsim Sha Tsui, Kowloon, Hong Kong
theluxemanor.com
Budget places in Hong Kong:
Where to stay in Hong Kong when you travel on a budget? No worries, there are many options. While Kowloon and Mongkok are a backpackers dream, you can also find great options in Causeway Bay or Central.
Yessin Hotel @ YMT 
Compared to Hong Kong Island, Kowloon and Mongkok up in the North might come with the feeling of being far away from the city centre. The truth is, that the place is still much more local than Central or Wan Chai. A good place to stay if you look for a cheaper option is the Yessin Hotel @ YMT (formerly known as Wing Sing Hotel).
Only a three minutes walk away from Yau Ma Tei MTR Station, this hotel or rather hostel offers dormitories as well as private rooms and is located in the heart of Kowloon. The old 25-story building is being renovated until the end of 2016, but no worries, the most floors are already brand-new. Besides a great young vibe, the best thing about Yessin Hotel is its location: buzzing Temple Street Night Market is only a 1-minute walk away, while Ladies Market is 1.1 km from the property. Also the friendly staff offers day tours and other activities like a visit to the horse races at Happy Valley Race Course that takes place every Wednesday night. If you look for a similar accommodation in Causeway Bay, check out its partner hotel Yessin Hotel @ Causeway Bay in Hennessy Road.
Want to stay at Yessin Hotel? Check it at Hostelworld! 
10/F-13/F,15/F-23/F, King Star 1B Wing Sing Lane, Kowloon, Hong Kong
yesinn.com
More Articles on Hong Kong Travel:
• Unordinary thinks to do in Hong Kong
• My addiction to Hong Kong: A confession
• Tai O Village in Hong Kong: Fallen out of time
• Hong Kong from above: a tram ride through the city of WOW's