Guide to Dubrovnik – The Pearl of the Adriatic
Looking for a romantic Mediterranean town with cobbled stone streets, petit restaurants and sundowner bars hidden in rocks at the sea? Welcome to my Guide to Dubrovnik in the very south of Croatia!
"If you want to see Heaven on Earth, come to Dubrovnik." Wise words by Irish playwright George Bernard Shaw that sum it up perfectly. For first time visitors, Dubrovnik may look too fantastic to be actually real. First of all, it's a pretty manageable city nestling between Old City walls, where you can take a walk while the sun sets at the horizon.
And if that were not enough it has old stone orange-roofed houses and tons of picturesque streets. It's full of tiny bars and restaurants and offers a vibrant nightlife. It has sandy beaches and a backyard mountain. It offers sportive activities and fabulous possibilities to relax. Although it has been hidden hard by 1990s war, Dubrovnik seems to have fallen out of time.
Here are the best places to visit, things to do in Dubrovnik and most important things you need to know before you visit Dubrovnik – a city that was declared a UNESCO World Heritage site in 1979.

This belongs in every Dubrovnik guide: a walk on the Old City Walls.
Choose the best time to visit Dubrovnik
Sorry to disappoint you, but you won't be the only one traveling to Dubrovnik on any day. In the summer month Dubrovnik is always crowded with tourists of all kinds: couples, families, thousands of cruise ship passengers and all the cheap flight folks coming down for some days full of sunburn and nights full of beats.
Conclusion: It's a good idea to go slightly off-season, which means spring or autumn. I would recommend May or September when the days are not so hot, the City Walls of Dubrovnik not so crowded and the bars not so noisy.
(Don't) Visit Dubrovnik in summer
Like in all Mediterranean travel destinations, the summers in Dubrovnik are unbelievably hot (over 30° Celsius)! The stones of the Old City Walls seem literally to glow. But no reason to worry, there is such thing as the ultimate solution…
What about spending the days at the beach close to the Old Town, enjoying a sundowner at a hidden bar in the rocks with a stunning view over the azure blue sea before heading down the cobbled stone streets to a romantic candle light dinner with a Latin type waiter that always smiles and always has a joke on his lips – and with a bottle of chilled white wine that cools down your sun heated body at least from the inside?
Does that sound good? I know it does!
Climb the Old City Walls
This is why most people are coming to this city: the Old City Walls of Dubrovnik. The best time to walk the walls surrounding the Old Town definitely is at late afternoon, when the sun starts to set and the stones start to get that special glowing colour.

Guide to Dubrovnik: climb the stairs of the old city walls.
Don't, I repeat, don't do it at noon or in the afternoon, you will melt! Be aware of the closing time that is 07:00 pm. If you don't want to do the walk in a hurry, plan a (absolute) minimum of one hour on the wall.
If you want to go all around it – and I totally recommend that – it is actually a long way with a lot of ups and downs and thousands of stairs. And you will also stop a thousand times to pause, let your gaze wander over that stunning views and take at least as much photos of it.
Also check out my recent post about my experience and tips on how to walk on the Walls of Dubrovnik here and have a look at the Lonely Planet for Southeastern Europe for even more info.

Guide to Dubrovnik: This is the view from up above.
Spend a day at the beach
Best thing to do on hot summer days is joining the tourist masses in the Old City relaxing at the beach. There are some reachable public beaches like Banje Beach, the most famous Dubrovnik beach, that you can actually reach in a few minutes' walk from the Old City. It is divided into a part where you have to pay (with sand on it) and a part where you can stay for free (with stones on it).

Guide to Dubrovnik: the little harbor behind the city walls.
So I guess which one you choose depends either on your on will to spend a shitload of money or your desired comfort. The good point is that swimming in the Adriatic is for free everywhere (and if you are bold, you can swim into the pay-zone, yay!)
Walk around and get lost
I know that this is one of my most favourite travel advices ever: walk around and get lost. As cars are not allowed in the Old Town, so that whole area is pedestrian only. Walk the small alleyways, step up some stairs, find the small hidden café and Take! Your! Time!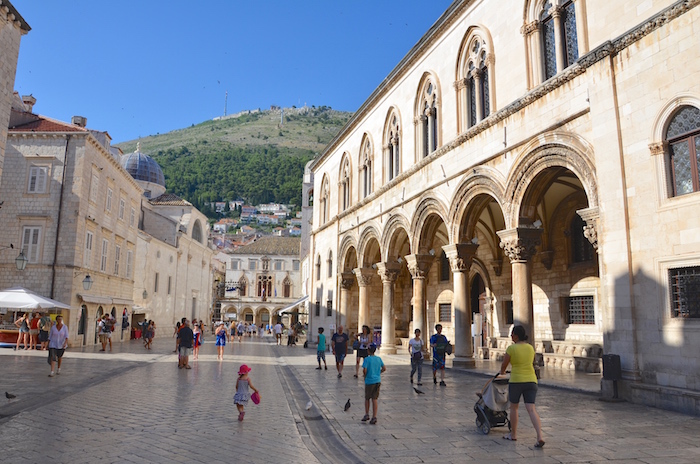 Best tip of any guide to Dubrovnik: Go discover the city by foot.
Do sport activities in and around Dubrovnik
Don't want to lie around at the beach all day? Do some kayaking around the Old City Walls or take a kayak trip to the close island of Lokrum and enjoy some stunning views from the water. In case you want to be lazy instead, just take a boat tour!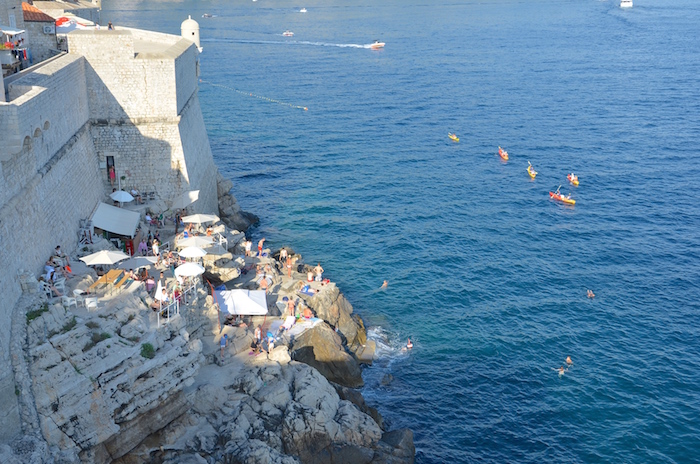 Take the cable car up the mountain Srđ
No, I have not fallen on my keyboard. Srđ is actually not a misspelling; it's the Croatian name of the backyard mountain that rises behind the Old Town of Dubrovnik. There are modern cable cars bringing you on top of it in probably a minute. Make sure to bring your camera as the mountain offers unbelievable views of the Adriatic Coast and Dubrovnik itself.
Absolut must: to stay until sunset and pray for good weather! You will never e-v-e-r forget this view!
Escape the hustle and bustle
In case that you are planning to spend more than two days in the area, you should consider a day trip to the surrounding areas of Dubrovnik, take a boat to one of the offshore islands like Lokrum or Mljet or even take a car or a bus to Montenegro. The old cities of Kotor and Budva are only a two to four hours ride away and totally worth a visit.
Play your Game of Thrones
Alright, alright, I don't see any way to skip Game of Thrones here, as some parts of the series (namely the King's Landing e.g.) are filmed in Dubrovnik. In case that you are a big fan, you could join a Game of Thrones tour. I actually don't have to tell you where to find it, it will probably be offered to you before you enter one of the Old City walls gates.
Avoid cruise ship 1-day tourists
On some days during peak season the amount of people wandering through the Onearly doubles. That is because of the gigantic cruise ships that bring hundreds and hundreds of tourists to the Dubrovnik Old Town every day. On those days you can easily get the feeling you would be in Vatican during Easter.
My advice is: Visit the Old City not before late afternoon, because most cruise ships depart before 4 pm and the city gets much emptier and more bearable.

No guide to Dubrovnik can show you the hidden parts of the old town. 
Enjoy the nightlife
The evenings in Dubrovnik are much more relaxed. Grab a bite to eat at one of the many restaurants, find a nice bar in one of the small alleyways or go dancing in one of the night clubs inside the city walls like Club Revelin, that is actually inside the Old Town Wall – very impressive and feels a bit like dancing in a bunker underground.
Guide to Dubrovnik: How to get there
traveling To dubrovnik is easy from major European cities: Many airlines such as Lufthansa, Alitalia, easyJet, Croatia Airlines and many more fly to Dubrovnik Airport, also referred to as Čilipi Airport, from several European cities like London, Frankfurt, Paris and many others. The airport is located approximately 15 km from Dubrovnik city centre.
As mentioned above, there are also several cruise liners that make a stop here. And in case you are planning to arrive by car, there is a well-developed road network.
Guide to Dubrovnik: Where to sleep
There are hundred of Hostels and Hotels in Dubrovnik offering rooms of all price ranges. You don't necessarily have to stay in the Old Town. There are busses connecting the other party of the city with the Old Town and the beaches.
Clemens' favorite Dubrovnik picks
Old City Walls of Dubrovnik: It costs 100 Kuna (13 Euro / $17 USD). Be aware, the walls close at 7:00 pm. Better start at 5.30 pm.
Banje Beach: This is the closest beach to the Old Town just beyond the 17th-century Lazareti outside Ploče Gate. For some part of the beach you have to pay, the other one is for free.
Dubrovnik Cable Car: One of the "must do's" of a visit to Dubrovnik is a ride on the Cable Car and the superb 360 degree panoramic views and great photo opportunities. Round-trip ticket for adults is 100 Kuna (13 Euro / $17 USD). There's a nice restaurant with seating outside. Better make a reservation!
Cafe Buža: If you are in the Old Town during or near sunset, it's totally worth heading to one of the bars built into the rocks. They actually have two locations. Entrance is not from top of the City Wall, but from the inner part. Come for the sunset! Stay for the night. And yes, you can jump from the rock!
Irish Pub The Gaffe: Well, a proper Irish Pub in Miha Pracata 4.
Fort Lovrijenac or St. Lawrence Fortress: a fortress and theater located outside the western wall. Good photo spot.
Planning a trip? Check out my favorite Croatia travel guides:
When it comes to Dubrovnik, a pretty good deal is the book Top 10 Dubrovnik and the Dalmatian Coast. But in case that you are going to spend more time in Croatia and the Balkans I can only recommend the Lonely Planet Croatia and the even more detailed Lonely Planet Southeastern Europe. 
More Articles on Croatia & Balkans Travel:
• A Walk on the Walls of Dubrovnik
• Montenegro: a country like a photo mural
• 15 facts proving Bulgaria is more than just a place to get wasted