Barcelona Champagne Bar: ultimate Guide to Xampanyeria Cava Bar
The Xampanyeria Barcelona are loud, messy and simply wonderful. But the best cava bars in Barcelona are certainly not what one would commonly understand by a champagne bar. And yet they are the right bohemian rooms. A mixture of snack bar, chic restaurant and lots of Catalan socializing.
But which one is the best Cava Bar in Barcelona? Opinions differ on this question. I put the best-known title contenders to the test. With loads of Jamón, Tapas and Cava. Vamos!
If you want to immerse yourself in the spirit of Barcelona, the narrow Xampanyerias or Tapas Bars of Barcelona are definitely just the right place. Here you will find succulent jamón, cheep and very drinkable Cava and perhaps even one or the other new friend. These two venues are on top of the list of Best Cava Bars in Barcelona.
Xampanyeria Barcelona no. 1: Xampañería Can Paixano – A life more sociable
The actual name of this institution opened in 1969 is Can Paixano and yet the Catalans simply simply call it La Xampañería, or in Spanish Champaneria.
It is a wonderful haunted tapas bar and cava bar as well in a former warehouse, which already develops its charm from afar. Walking by from a distance of hundreds of meters you can already hear the laughter and smacking of the bustling crowd of people. And suddenly you will know that you are just right.

A sky full of ham: only in one of the Barcelona Cava Bars also called Xampanyeria 

Cava en masse in the Xampanyeria Barcelona, the famous Champagne Bars 
This Xampanyeria Barcelona not the place for the well-heeled champagne drinkers, not for the claustrophobic ones, and certainly not for unsociable types. This is the place to have a break after a long day at work, hectic sightseeing in the old town of Barcelona or to rest after a sunny afternoon at the beach.

A typical meal in the Xampanyeria Barcelona: Bocadillo and a glass of Cava

Girls having a chat in the Xampanyeria, one of the famous Cava Bars Barcelona
It is also a place to linger. A place for the irrepressible cravings for a Bocadillo, the Catalan version of sandwiches, with Spanish ham, cheese or chorizo sausage. Or olives and good salami. And for one or the other glass (or couple of bottles) of Cava, a special Catalan sparkling wine. It is a place for all those who have no problem to stand closely side by side, and let time go by. A place for unexpected acquaintances, a place to let the evening come to end or to start the night.

In Barcelona champagne bars are usually a crowded place: the Xampanyeria Barcelona (Champagne Bars) 
Whether local or tourist, here people don't mind when others step on their feet. On the contrary everyone here makes space for each other willingly. And if they do so then with a blissful cava-smile on their faces.
HARD FACTS:
Location of the Can paixano (la xampanyeria):
This one named La Xampanyeria is one of the famous Cava Bar Barcelona and it lies in a small side street (Carreer de la Reina Cristina 7) near the dockland area Barceloneta within walking distance to the Old Town district and perfect for a stopover after a day at the beach.
Food: Much in Can paixano (la xampanyeria) is not necessarily suitable for a diet. The Bocadillos of this Xampanyeria Barcelona can be ordered with everything imaginable, whether it is a variety of sausages, cheeses, Serrano ham or juicy pork loin from the open grill, one Bocadillo is more delicious than the next. One could simply eat everything written on the huge menu board on the wall (would be good to speak Spanish/Katalan though).
Vegetarians should try not to be distracted by the giant ham hanging from the ceiling. You can also just order devilishly good olives or a delicious cheese plate.
Cava: Till 5pm you get the house sparkling wine by the bottle for 4.45 euros and all day in a "Copa", which is a glass for 1.40 euros. I can particularly recommend warmly the Cava Rosado (rosé).
Ambience: Always crowded and always something going on. There is standing room only, no tables, which makes the whole thing even more sociable. And that's a good thing.
Special feature 1: The Can paixano (la xampanyeria) you cannot just come by for a drink. So that people are not drunk by noon, you get bottles of Cava for on-site booze only with a food order. In the back of the store you can buy bottles to take home for only 2.80 Euros (lower prices).
Special feature 2: Get to the bar and then stay exactly there! Which means, you order at a particular bartender (there are a couple of them behind the bar), and then have your meal at this area of the bar. Drinks should not be taken out of the place, unless you want to get in trouble with grumpy security guard at the door.
SUMMARY:
The Xampañería is cheap, good and entertaining. And it is addictive! There is no better way to end the day in Barcelona.
ADDRESS AND OPENING HOURS:

'Xampañería Can Paixano'
Carreer de la Reina Christina 7
E 08003 Barcelona
Spain
Metro: Barceloneta (Line 4/yellow)
Opening times of 'Xampañería Can Paixano':
Monday to Saturday – 09.00 to 22.30
Sunday closed
Xampanyeria Barcelona no. 2: El Xampanyet – Old meets New
The first impression of the Barcelona Xampanyeria 'El Xampanyet' makes clear difference to the Xampañería at the harbor. It has a very different charm, somehow slightly upscale. Providing trendy bar stools, modern, blue ceramic wall tiles and nice wood decor. But it is just as loud.

Barcelona cava bar: this is the famous El Xampanyet

It never gets boring in the Barcelona Champagne bars like this 
This is one of the really old bars in the city that has always been the perfect place to waste a lot of time, with a few tapas (this bar is famous for them), a cerveza (beer) and, that goes without saying, also the homemade cava. Whether you come alone or with friends actually plays no major role. Even without it should be easy to increase the number of friends with each empty glass.
Located in the fashionable El Born district, close to the Picasso Museum (Museu Picasso de Barcelona) and many other top sights of the city this Xampanyeria Barcelona probably still looks the same as it did 90 years ago. Surely not much had changed here since the opening in 1929. Only the hams that hang on the walls and ceiling have probably changed in the meantime (well, hopefully!)

A typical glass of champagne in one of the Xampanyeria Cava Bars in Barcelona
The name of this Xampanyeria Barcelona comes from the special sparkling wine that is served here: the Xampanyet. However they serve it in the original flip-top bottles and in fancy champagne glasses and not in the cute flat glasses or much more goblets of the Xampañería.

Never enough tables for everyone: the Xampanyeria Barcelona
The most obvious contrast to the other Xampanyeria Barcelona in this test are the dozen marble tables. But for that you should either bring a lot of waiting time or have plenty of fighting spirit. There is no chance to book a table, therefore: First come, first drinking Cava. It's that simple.
They don't really have menus, but the offers of the day can be found on large blackboards.

A waiter serving Tapas in one of the Champagne Bars (Barcelona Xampanyeria)
HARD FACTS:
Location of 'El Xampanyet': This one of the famous Champagne Bars in Barcelona (Xampanyeria Barcelona) lies in the small cobbled Carrer de Montcada in El Born, close to many attractions such as the Picasso Museum.
Food: Some of the best tapas such as beef, Serrano ham, olives, feta cheese, salmon, anchovies, cod, tapenade and so on.
Tip: The best seats in the Xampanyeria Barcelona 'El Xampanyet' are those directly at the counter, for there you have all the tapas variants directly in sight, where they are served on large plates (and damn, it look delicious!)
Cava: Of course homemade! Prices are about the same as the Cava at Xampañería.
Ambience: When the bar is open, there is always something going on here. The few tables are almost always occupied. And as we all know, the number of standing room is always a matter of opinion.
SUMMARY:
I can only recommend a visit to the Tapas Bar El Xampanyet. The only downside: unfortunately, it is listed in every guide book, which get lots of tourists in here, what indeed does not have to be necessarily bad.
ADDRESS AND OPENING HOURS:

'El Xampanyet'
Carrer de Montcada, 22
E 08004 Barcelona
Spain
Metro: Barceloneta (Line 4/yellow)
Opening hours of Xampanyeria 'El Xampanyet':
Tuesday to Saturday – 12.00 to 16.00 and 19:00 to 23:30.
Sundays 12.00 – 16.00
Metro: Jaume I. (Line 4/yellow)
CONCLUSION:
Whether during the day or as a starting point for the night, the two famous Xampanyeria Barcelona champagne bars are both recommended. While El Xampanyet has a somehow sumptuous ambience and attracts more tourists not only due to the central location, the Xampañería is the rustic choice and in my opinion more real and (yet) more of an insider.
So where to go, you ask? Which of the famous Xampanyeria Barcelona should you choose?
Honestly, just go by your gut feeling. Your appetite will tell you if you have more desire for hearty Bocadillos or a fine selection of best tapas in Barcelona. Anyways, after the fourth glass, the Cava tastes delicious everywhere.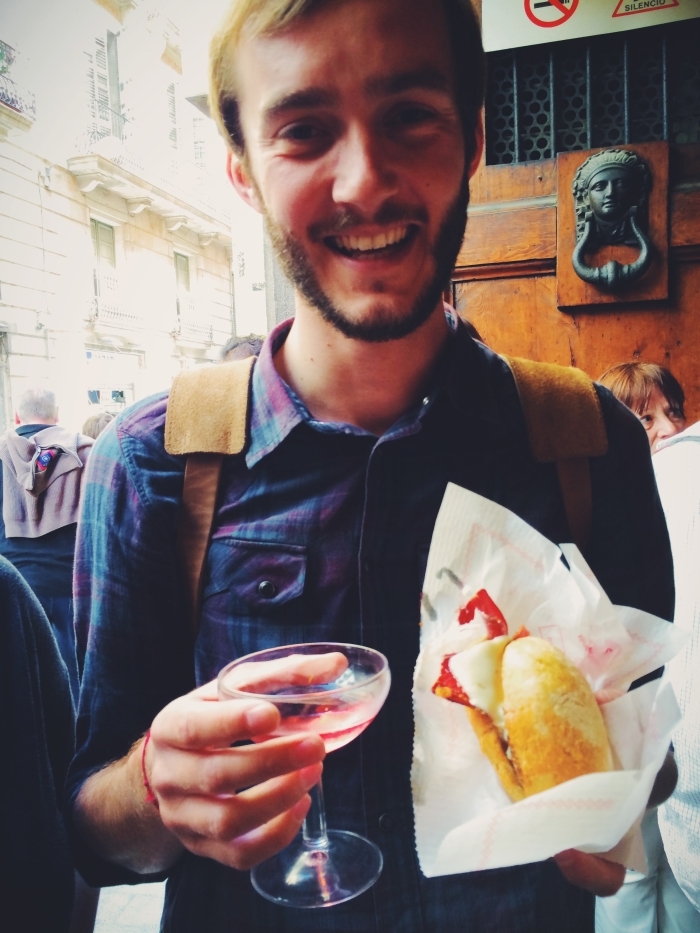 Planning a trip? Check out my favorite Barcelona travel guides:
Have you been to a Barcelona Champagne Bar? Which do you like the most? Leave a comment!
Enjoyed this article? Follow me on Facebook and get notified about new posts!